Young Students across the Country Champion National Food Security
March 22, 2017:
In signaling the ever-increasing value of youth in its thrust to promote national food security, the World Food Day National Committee of Trinidad and Tobago (WFDNCTT) of the Ministry of Agriculture, Land and Fisheries, in partnership with Massy Stores, has embarked on a tree planting exercise, in which the active role of students – from several schools across the country – has been positioned at the helm!
As a representation of the role that each citizen (from young to old) must be committed to make as we collectively seek to reduce the food import bill by increasing both the consumption and stimulation of local produce, symbolic 'torches' in the form of two (2) Balata Plants, will journey throughout seven (7) Primary Schools in Trinidad and with each stop (for a period not exceeding one week), be nurtured and cared for by the school's 4H students.
This 'Plant Torch' activity, meant to mimic that of the Olympic Torch, will culminate in a Tree Planting Ceremony on April 5th, 2017, at the Royal Botanic Gardens and will serve as a precursor to the highly anticipated 'Run for Food Charity 5k Fun Walk/Run' event which takes place on April 8th, 2017, at the Queen's Park Savannah in Port of Spain. The plant nurturing process has already been embarked by students of four (4) Primary Schools; the two (2) most recent of which being the Exchange R.C. Primary School (from March 10th -15th) and the Cedros Government Primary School (from March 15th – 17th). The two (2) former schools were the Valencia South Government Primary School (from March 1st – 3rd) and the Hokett Baptist Primary School (from March 6th – 8th).
Information on the appropriate care for the Balata – which produces a fruit kin to the Sapodilla and can be enjoyed from as early as 2 ½ - 3 years after planting – was provided to each of the participating schools. Currently, the plants are in the care of the Siparia Hindu (SDMS) Primary School (from March 21st – 24th), where they will remain before proceeding to both the St. Thomas Primary School on March 27th and the Sisters Road Anglican Primary School from 3rd April, 2017.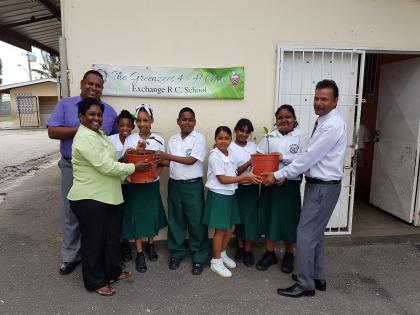 Photo Caption: Representative of the World Food Day Committee of Trinidad and Tobago (WFDNCTT) of the Ministry of Agriculture, Land and Fisheries, Mr. Krishna Soogrim-Singh (extreme right), joins 4H students and teachers of the Exchange R.C. Primary School in Couva, in holding a Balata Plant on Friday 10th March, 2017. The students participated in a 'Plant Torch' activity from March 10th – 15th, 2017, which enabled them to keep and care for the Balata Plants over the course of a few days. (Photo Courtesy: Ministry of Agriculture, Land and Fisheries)
END
For further information, please contact:
Head, Communications and Events,
Ministry of Agriculture, Land and Fisheries
Tel: (868) 622-1221 ext. 1159