Unilever Donates 20 tons of Soap Powder to Ministry of Rural Development and Local Government for Flood Victims
November 3, 2017: In an outstanding show of volunteerism, Unilever has donated 20-tons of soap powder towards the Ministry of Rural Development and Local Government's relief drive to assist flood victims across the country in cleaning up their homes.
Throughout the course of today, each of the 14 Municipal Corporations will be collecting a portion of the donation which will be housed at their respective Disaster Management Units and subsequently distributed in affected communities. Minister Haji Kazim Hosein expressed sincerest thanks to corporate volunteer, Unilever saying, "I am overwhelmed by the desire to help that has been displayed by Corporate Trinidad. Many companies across Trinidad have reached out to me and continue to do so, willing to give donations of non-perishable items, household and cleaning supplies, water and even school items. This wonderful gesture from Unilever will certainly go a long way in restoring those communities that were affected by the recent torrential rains." Minister Hosein continued encouraging people to be their brothers' keeper in times of need.
Unilever previously donated three pallets of cleaning products, which were distributed in areas such as Woodland, Basse Terre, Bois Jean Jean, La Ruffin, La Lune, Marac as well as across the Mayaro/Rio Claro region. These items will go a long way towards the monumental task that families have to face in restoring their homes.
Let us continue to work together to help those in our beloved nation who have been severely impacted by the recent heavy rainfall.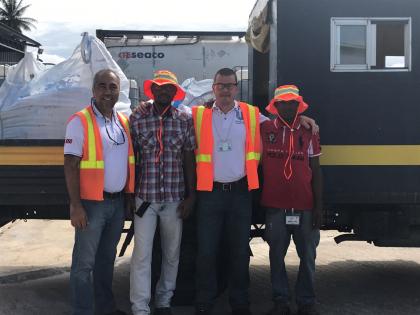 Members of the San Fernando City Corporation collect donation from Mr. Wilman Castillo, HSE Manager at Unilever (far left) and Mr. Paul Wiggans, Supply Chain Manager at Unilever (second from right)
###