T&T wins People's Choice Award at Embassy Chef Challenge in Canada
February 13, 2017:
On November 3rd, 2016, the High Commission for the Republic of Trinidad and Tobago in Ottawa, Canada won the People's Choice Award at the Annual Embassy Chef Challenge event that raised $75,000.00 for the Children's Hospital of Eastern Ontario.

Chef Resa Solomon – St. Louis, Chef and Owner of Baccanalle Catering, of Trinidad and Tobago heritage and international repute successfully defended her title with a creative dish inspired by Tobago's popular curried crab and dumpling titled Lobster Two Ways, Lobster-filled Cassava Dumplings in a Coconut Curry Sauce accompanied by a Lobster Souse. Her entry captured the audience's nod of approval despite stiff competition from ten (10) other chefs representing the Embassy of Belgium, the British High Commission (United Kingdom), the Embassy of France, the Embassy of Guatemala, the Embassy of Honduras, the High Commission of Jamaica, the Embassy of Kazakhstan, the High Commission of Pakistan, the High Commission of Malaysia and the Embassy of Spain. 

His Excellency Garth Chatoor, High Commissioner for the Republic of Trinidad and Tobago to Canada commented that "it was heartening to see everyone enjoy Resa's dish, her People's
Choice Award is testament to the explosion of flavour synonymous with Trinidad and Tobago's cuisine and is a prime example of how our food can transcend borders and reflect who we are as a diverse culture."

In 2015, Trinidad and Tobago's Chef Resa was awarded First Prize in the Embassy Chef Challenge by the international panel of judges, defeating her counterparts from the United Kingdom, Moldova, Spain, Philippines, Thailand and Hungary to take home the trophy. The High Commission for the Republic of Trinidad and Tobago, Ottawa was proud to participate in the competition, which was hosted by the International Bowel Disease (IBD) Foundation, an Ottawa based charity that raises awareness and funds to assist persons living with Inflammatory Bowel Disease. The prize money would assist in providing new treatment rooms for IBD patients.
Event Photo: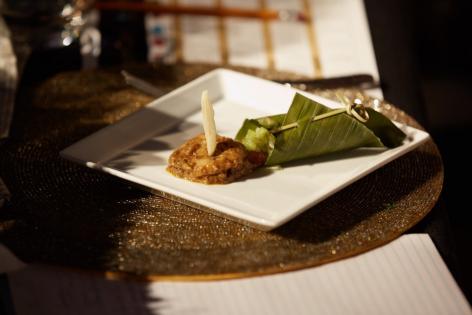 Photo Caption: Lobster Two Ways: Lobster-filled Cassava Dumplings in a Coconut Curry Sauce accompanied by Lobster Souse. (Photo Courtesy: Ministry of Foreign and CARICOM Affairs)
END
For further information, please contact:
Manager, Corporate Communications Unit
Ministry of Foreign and CARICOM Affairs
Tel: (868) 623-6894 ext. 2154