Social Welfare Advisors Receive Leadership Training
November 22, 2017: Approximately 40 supervisors and Social Welfare Advisors attached to the Social Welfare Division of the Ministry of Social Development and Family Services attended a one-day session on Leadership Development entitled: "Leadership in a time of Transformation" on November 3, 2017. Newly appointed Acting Director and Deputy Director of the Division, Mrs Cheryl Layne-Pereira and Mr Troy Pollonais were also part of the training, which was facilitated by leaders of the Caribbean Leadership Development Network, at the NESC Centre Woodford Lodge, Chaguanas.
Delivering opening remarks, Permanent Secretary at the Ministry, Jacinta Bailey-Sobers, shared on the importance of being a strong leader and setting personal and professional goals and standards as a public officer. PS Sobers asked the attendees to reflect on how each of the eleven social welfare district offices could improve and become an example to the others.  She also encouraged the participants to support each other to achieve the vision of the Ministry. Participants were also urged to be opened to embrace the new learning and to engage fully in the various aspects of the training.
The objective of the training was to build capacity and equip attendees with the leadership skills required for an organisation in transformation. Attendees were exposed to core areas of leadership, with a focus on the characteristics of a transformed leader. The participants were encouraged to lead by example as they chart the way forward for service excellence in the Ministry. Among the areas covered were:
1. Understanding Self
2. Leading from where you are
3. Creating an atmosphere of Trust
4. Overcoming Challenges
5. Six (6) Thinking Hats
The Continuous Learning and Development Network -Trinidad and Tobago Chapter (CLDN T&T), was formed to assist in building capacity in the public service to address current and on-going challenges. The Ministry of Social Development and Family Services was selected by the Network to focus on improving the delivery of the Senior Citizens' Pension as part of a Brightspot Competition, spearheaded by the Caribbean Leadership Programme. 
The leadership training intervention was developed, based on the data received, for a staff survey and based on feedback on the challenges expressed by supervisors in managing the delivery of services in an ever-changing environment. The Ministry was grateful for the contribution of the CLDN members to the strengthening of leadership capacity in the meeting.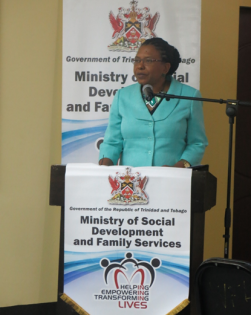 Leading Lady: Permanent Secretary in the Ministry of Social Development and Family Services, Mrs Jacinta Bailey-Sobers while addressing Social Welfare Advisors and Supervisors during the training session. 
###
For more information:
Communications Unit
Ministry of Social Development and Family Services (868) 623-2608; Ext 5405/5424/5432
cceu@social.gov.tt