Social Development Ministry supports South families through Outreach Partnership
April 4, 2017: Strengthening families to create brighter futures was the aim of a recent outreach initiative conducted by the Pentecostal Assemblies of the West Indies, South Trinidad District, with staff of the Ministry of Social Development and Family Services participating and supporting the event via an information booth. The outreach, which promoted bonding families, healthy and active lifestyles and information sharing, took place on Saturday March 18, 2017 at Devil's Woodyard, Hindustan Princes Town.
Themed, "Men Can Cook,"the initiative attracted dozens of males from southern communities, vying for culinary supremacy. Providing support to the competing men were their families and many well-wishers who also joined in the day's activities, which included aerobics and various sporting events for both children and adults.
Ministry representatives from the Targeted Conditional Cash Transfer Programme, Social Welfare Division and Disability Affairs Unit had the opportunity to interact with a number of patrons who included church members, youths, children and members of the surrounding community. These persons benefitted from the abundance of information on programmes and services provided by the Ministry of Social Development and Family Services as well as other state and private agencies. Free flu shots were also provided by the Ministry of Health during the Outreach.
The Ministry was pleased to have supported this Outreach initiative and continues to make a difference towards improving the lives of vulnerable and indigent citizens of Trinidad and Tobago, helping…empowering…, and transforming lives.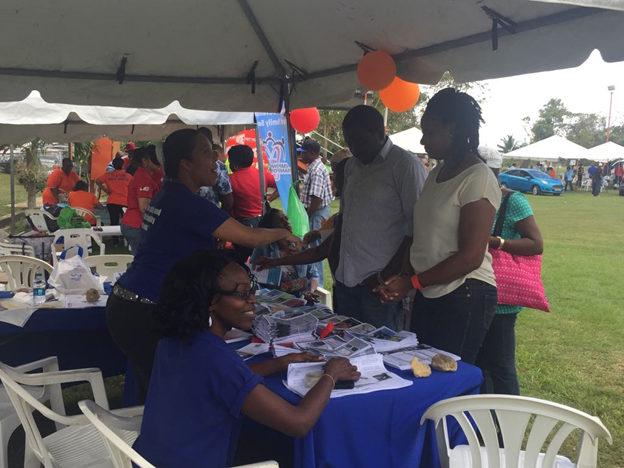 Knowledge is power: Staff members from the Ministry's Disability Affairs Unit and TCCTP interact with persons visiting the information booth.
###
For further information please contact:
The Corporate Communications Unit
Ministry of Social Development and Family Services
868-623-2608 Ext 5405/5432