Senior Citizens Receive Treat for International Women's Day
March 22, 2017:
Male participants of the Retiree Adolescent Partnership Programme (RAPP) of the Ministry of Social Development and Family Services hosted a special event for senior citizens of the Toni and Juliet's Senior Citizens Home in commemoration of International Women's Day on Wednesday March 8th 2017.
Seniors were treated to an Artistry Experience spa session hosted by Joanne Samuel, Elizabeth Powder and Shirma Clinton-Lynch, which included the use of premium products and information on proper skin care.
Guest speaker, retired Defence Force Officer Harold Charles, encouraged the women to reflect on this year's theme "Be Bold for Change". He said as the world changes globally, there should be a higher demand for more women in CEO and management positions to assist in making policies that can transform the society. Mr Charles also told participants to continue having God at the centre of their lives as He will give them the power, wisdom, security and guidance which will help them to navigate the challenges ahead.
The male participants also sang songs and recited poems to persons in attendance whilst allowing participants to enjoy the activities.
Event Photo: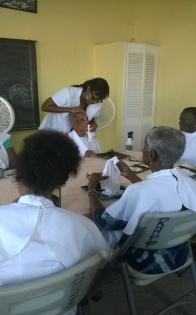 Photo Caption: Seniors of the Toni and Juliet's Senior Citizens Home receive special training on skin care. (Photo Courtesy: Ministry of Social Development and Family Services)
END
For further information, please contact:
Communications Unit
Ministry of Social Development and Family Services
Tel: (868) 623-2608; ext 5405/5432