Senator the Honourable Clarence Rambharat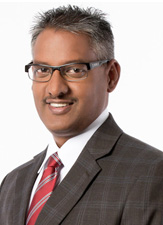 Senator the Honorable Clarence Rambharat was reappointed a Senator and Minister of Agriculture, Lands and Fisheries on August 19, 2020.
He first held that position in September 11, 2015 on his first appointment to Cabinet. 
Senator the Honorable Clarence Rambharat was born in the agricultural community of Rio Claro.  Early in his career as a lawyer, his work covered land tenure and land administration.  His interest in agriculture developed through his father's career as a Forest Officer and his family's long history in farming.
He is a specialist in corporate governance, in particular state corporations, regulated financial institutions including credit unions and banks, code of conduct issues and business ethics. His work as a lawyer, lecturer and writer on these subjects is well established.
Senator Rambharat has worked for global multinationals in oil and gas and financial services in the areas of corporate governance, regulatory compliance and procurement.  In the Caribbean, he has worked in leadership positions in the Trinidad and Tobago sugar industry and health sector. He is a former Chairman of the Employers' Consultative Association (ECA) of Trinidad and Tobago, a premier voice for employers and a delegate to regional and global conferences on workplace issues. In Canada, Senator Rambharat had been in private practice and worked for in HSBC in regulatory positions.
Over the last 20 years Senator Rambharat has been a University lecturer in Administrative and Constitutional Law, International Law and other areas of law and business, and has also been a presenter and speaker on various areas of law including corporate governance and public sector procurement.  He is also what some call a 'must-read newspaper columnist', writing on matters of public interest in Trinidad and Tobago.
Senator Rambharat is happily married to Camille Mc Millan-Rambharat, with three children.
Portfolios Held
Minister of Agriculture, Land and Fisheries
11 September, 2015 - Present