Senator the Honourable Avinash Singh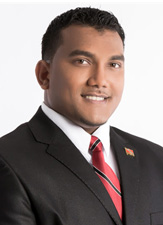 Senator the Honorable Avinash Singh was appointed a Senator and Minister in the Ministry of Agriculture, Land and Fisheries on August 19, 2020.
Senator Avinash G Singh has a mission is to succeed in an environment of growth and excellence while undertaking challenging assignments and responsibilities which provides him with job satisfaction and self-development.
Appointed an Opposition Senator in the Parliament of the Republic of Trinidad and Tobago. (2013-2015), he was then appointed in September 2015 at Parliamentary Secretary in the Ministry of Agriculture, Land and Fisheries.
A graduate of the University of the West Indies, with a Major in Agricultural Science and Minor in Environmental & Natural Resource Management, Senator Singh was awarded a Trophy for Excellence in Youth in Agriculture by the Agricultural Society of Trinidad and Tobago.
The innate appeal of agriculture saw him completing the Youth Apprenticeship Certificate Program in Agriculture (Y.A.P.A) of the Ministry of Agriculture, Land & Marine Resources' Certificate in 2007.  He worked in the field as an Agricultural Consultant in 2012 and a Customer Service Representative in 2013.
A registered farmer, he has also represented Trinidad and Tobago and the Agricultural Society of Trinidad and Tobago at an international training and workshop on Agricultural Risk Mitigation for farmers in St. Lucia.
A true champion of the people, he serves as a Voluntary Tutor for special students, Sixth Form Association Services at Carapichaima Junior Secondary; as the Trustee at the Heliconia Foundation for Young Professionals, Past Secretary and Past Vice President of the Felicity Farmers Association, Past Public Relations Officer of the Shree Krishen Mandir, and a member of the Felicity North Sports and Cultural Group
He is married to Ria Ragoo.
Portfolios Held



Minister in the Ministry of Agriculture, Land and Fisheries

19 August, 2020 - Present




Parliamentary Secretary in the Ministry of Agriculture, Land and Fisheries




10 December, 2013 - 17 June, 2015
Previous Government Minister