SEED Grant to provide Social Safety Net for those in Poverty
August 11, 2017: The Ministry of Social Development and Family Services today distributed grants for the Sowing Empowerment and Entrepreneurial Development (SEED)Programme, to nineteen (19) of approximately 1,000 approved applications,  from regions across Trinidad. The Ceremony took place at the Head Office on St Vincent Street, Port of Spain.
This was the first of several distributions planned for the coming weeks, as the Ministry seeks to address poverty by empowering and equipping SEED applicants with the necessary start up material and equipment for their small businesses. Among the nineteen who received their funds today, some recipients will be pursuing catering, landscaping, apiculture, cosmetology and agriculture.
Minister of Social Development and Family Services, The Honourable Cherrie-Ann Crichlow-Cockburn, during her address, told the beneficiaries that the Ministry looks forward to working with them to ensure that the outcome of their small business pursuit was a success. According to the Minister, "Today's occasion is a reflection of the Government's strategic role in reducing poverty; creation of a more stable economy; and provide a safety net, by investing and placing human capital at the core of sustainable development". She also encouraged the recipients to make very good use of the opportunity and ensure that the grant takes them along a path which leads to sustainable employment and income generation which improves the quality of life, for them and their families. The Minister then presented the grants to recipients.
A grant recipient from Arima, Joanne Mathews, who will be pursuing Apiculture indicated that she was very happy to receive her grant because she knows that apiculture is an area with very good growth potential.  She thanked the Ministry for delivering on its promise to assist her and help make her dream of having her own business a reality. She indicated that she looks forward to the training element of the Programme because she has a special interest in how to market her honey.
About SEED
The Sowing Empowerment through Entrepreneurial Development (SEED) Programme transforms the lives of beneficiaries through the provision of equipment, specialized training, to initiate or expand a micro enterprise. The grant is valued at up to 15,000.00TTD.  Using this competitive/egalitarian welfare to work approach, it is envisaged that these tools will be used to give the vulnerable a source of income to sustain themselves and their families.
Training is provided in the following areas:
(a)    Cash Management:
(b)   Record Keeping:
(c)    Customer Service Excellence;
(d)   Marketing; and
(e)   Costing and Pricing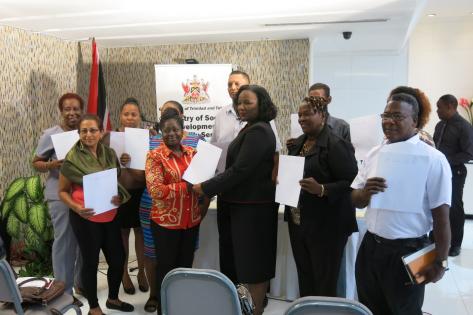 All smiles: A cross-section of some of the SEED recipients pose with Minister of Social Development and Family Services, the Honourable Cherrie-Ann Crichlow-Cockburn  after they were presented with their SEED Grants.
####
For further information please contact:
Communications Unit
Ministry of Social Development and Family Services
(868) 623-2608; Ext 5405/5424/5432