Public Utilities Minister meets with Union Representatives
October 10, 2017: The Minister of Public Utilities, Senator the Honourable Robert Le Hunte, initiated meetings with Union Representatives of the Trinidad and Tobago Electricity Commission (T&TEC), the Trinidad and Tobago Solid Waste Management Company (SWMCOL), the Banking, Insurance, and General Workers Union (BIGWU) and the Amalgamated Workers Union to discuss the way forward for the entities under the Ministry of Public Utilities' purview, in the context of the 2017/2018 Budget presented by the Minister of Finance, the Honourable Colm Imbert, on October 2, 2017.
Upon assuming office, one of the mantras of the Minister in transforming the entities under his purview is "doing more with less" and increasing efficiencies in their operations. In an attempt to improve the efficiencies, one of the methods is getting feedback from the entities via their labour representatives which could be critical in improving their operations.
Minister Le Hunte suggested to the Union Representatives that improvements can be made by incorporating revenue generating measures into daily activities; upgrading equipment and increasing the use of technology where necessary as well as meeting with them regularly to ensure a reliable service and service delivery.
A number of useful suggestions were put forward by the Unions which will be engaging the Minister's immediate attention.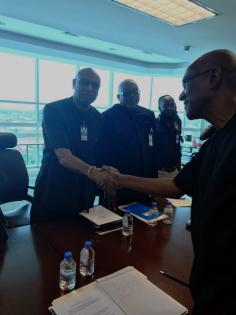 President of Oilfield Workers' Trade Union, Ancel Roget (left), is greeted by the Minister of Public Utilities, Senator the Honourable Robert Le Hunte (right), at the Ministry of Public Utilities' Head Office. 
– END –
For more information contact:
Corporate Communications Unit,
Ministry of Public Utilities
One Alexandra Place, # 1 Alexandra Street, St. Clair
628 – 9500 ext 5306