Primary school students to plant Balata in the Royal Botanic Gardens
March 9, 2017: Just as the Olympic Torch in 2016 was passed from Athens via several countries before making its way to Brazil, so too will two (2) Balata Plants make the journey throughout several primary schools across Trinidad in a 'Plant Torch' activity that will witness a tree planting exercise in Port of Spain, early next month.
The World Food Day Committee of Trinidad and Tobago (WFDNCTT) of the Ministry of Agriculture, Land and Fisheries, in partnership with Massy Stores, solicited the participation of 4H students from seven (7) primary schools, who will each commit for a period not more than one (1) week, to keep the plants and care for them.
The Balata – which is kin to the Sapodilla – is usually yellow, orange or purple in colour and can be enjoyed from as early as 2 ½ - 3 years after planting. To date, students of the Valencia South Government Primary School have completed the plant nurturing process which they undertook from March 1st – 6th, 2017.
The activity then moved to the Hokett Baptist Primary School on March 6th, 2017, where it will remain until March 9th, 2017, before moving to the remaining five (5) schools.
The Plant Torch activity will culminate in a Tree Planting Ceremony on April 5th, 2017, at the Royal Botanic Gardens and will serve as a precursor to the highly anticipated 'Run for Food Charity 5k Fun Walk/Run' event which takes place on April 8th, 2017, at the Queen's Park Savannah in Port of Spain.
Other participating schools in the activity are: Siparia Hindu (SDMS) Primary School; Cedros Government Primary School; Sisters Road Anglican Primary School; Exchange R.C. Primary School in Couva and St. Thomas Primary School in Mayaro.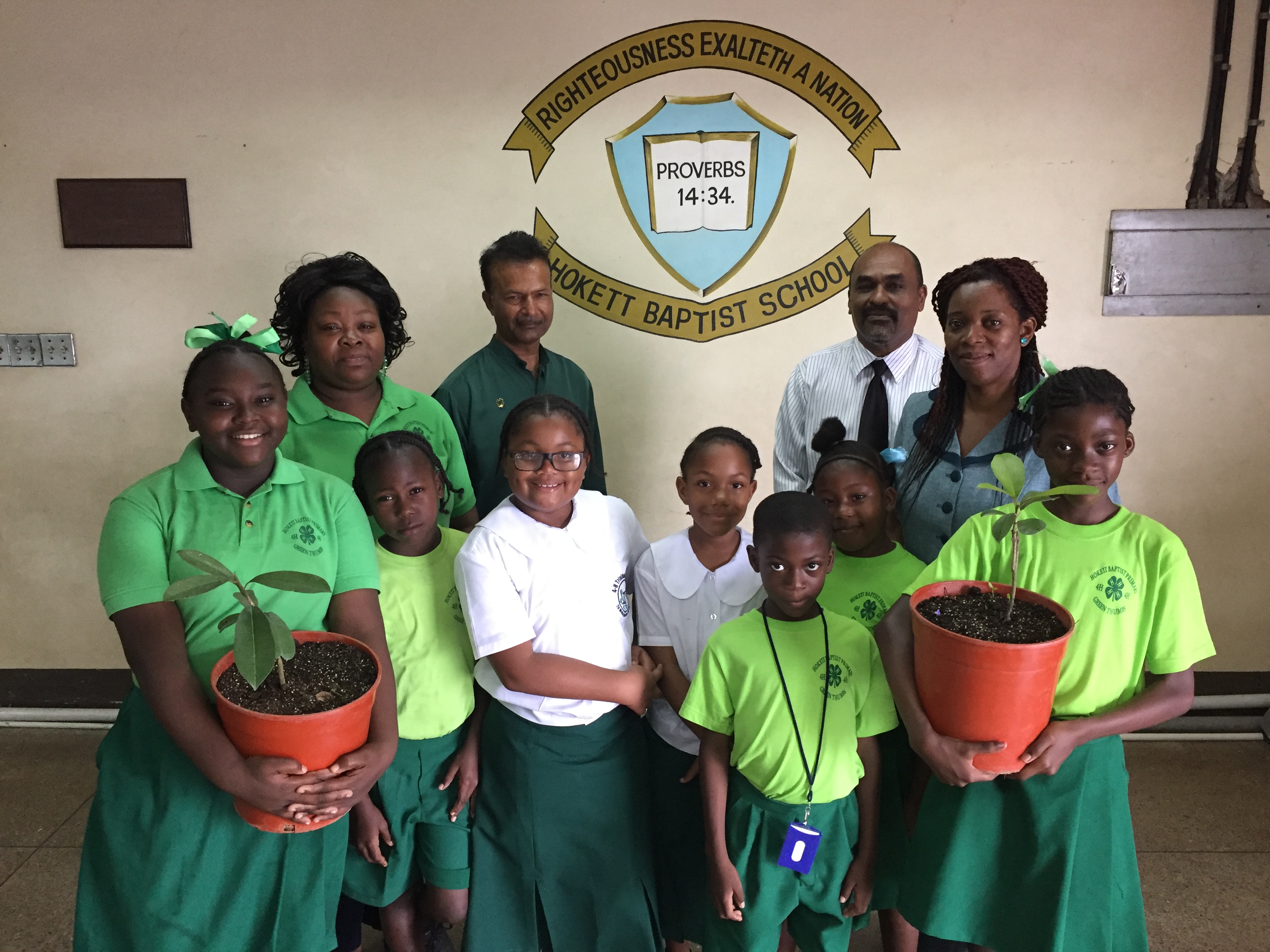 Mr. Krishna Soogrim-Singh of the WFDNCTT (rear left), poses for a photograph with teachers and students of the Hokett Baptist Primary School, following a handing over ceremony of the Balata Plants to the custody and care of the school's 4H students. Standing at Mr. Soogrim-Singh's right is the school's Principal, Mr. Stanley Mahase.
###
For further information please contact:
The Corporate Communications Unit
Ministry of Agriculture, Land and Fisheries
868-622-1221