Over 250 New Teachers Inducted into the Teaching Service
August 24, 2017: Over two hundred and fifty new teachers were welcomed to the profession on Wednesday 23rd August, 2017 at an orientation session for beginning teachers held atthe MIC Institute of Technology in Macoya. The new teachers of both primary and secondary level, gathered to recieve their letters of appointment and to be welcomed into the profession by the Ministers and officials of the Ministry of Education. For two days information will be shared to prepare the beginning teachers for entry into the classroom. Minister Anthony Garcia gave a wealth of advice to the group with a focus on the message "A teacher touches the future." This he says, must be kept at the forefront of the mind on entry to the classroom as students are conscious of everything a teacher says and does noting that learning takes place both academically and interpersonally.
The orientation session, is an introduction to a two (2) year programme intened to treat with all aspects of the teaching service to ensure the most competent persons are placed in the nations classrooms. The Teaching and Teacher Development Division of the Ministry of Education will conduct the programme with the involvement of the Curriculum Planning and Development Division, School Supervision and Management Division, Student Support Services Division and a number of other pertinent units within the Ministry.
The two year programme is one of the initiatives of the Ministry of Education to ensure that the teaching and learning outcomes of the nations schools are in keeping with international best practice. The Government and Ministry of Education of Trinidad and Tobago continues to strive to maintain and push forward the successes of Trinidad and Tobago in meeting and exceeding the SustainableDevelopment Goals set out for education by the United Nations.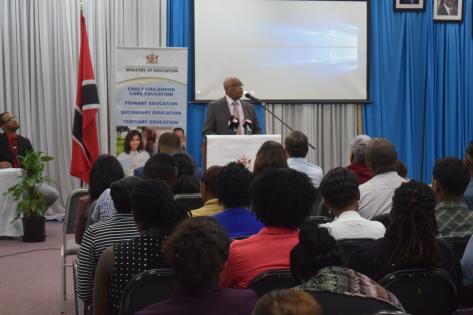 Honourable Anthony Garcia, Minister of Education delivering the feature address at the Orientation Session for Beginning Teachers 2017
###
For further information contact:
Corporate Communicatios Division Ministry of Education Education Towers, No.5 St. Vincent Street, Port of Spain 622-2181