National Security Minister appoints members of the TTPS Manpower Audit Committee
January 17, 2017: The Ministry of National Security wishes to announce that the Committee charged with the responsibility of conducting the first manpower audit of the Trinidad and Tobago Police Service (TTPS) has been established by the National Security Council chaired by the Honourable Prime Minister Dr the Honourable Keith Rowley.
Today, the seven committee members received their instruments of appointment and terms of reference, signed by the Honourable Prime Minister, from the Minister of National Security Major General (Ret'd) the Honourable Edmund Dillon.
The Manpower Audit Committee will be chaired by Professor Ramesh Deosaran, with the other members of the committee being:
Mr. Harold Phillip         - Ag. Deputy Commissioner of Police
Ms. Erla Christopher     - Assistant Commissioner of Police
Ms. Jacqueline Wilson   - Permanent Secretary (Retired)
Mr. Allan Meiguel         - Attorney at Law
Dr. Levi Guy-Obiakor    - Security Management Consultant
Mr. Anand Ramesar      - Ag. Assistant Superintendent of Police
                                    (Police Social and Welfare Association)
Minister Dillon thanked the Committee members for their willingness to serve on the Police Service Manpower Audit Committee. He noted the importance of the exercise was to get a good understanding of the manpower and resources required to achieve the strategic aims of the Trinidad and Tobago Police Service.
The objectives of the Committee will include:
1.   Examining the existing manpower strength at all ranks and related units of the Police Service;
2.   An examination of the developmental policies and the current standards and practices in the recruitment, deployment, training and career progression of officers;
3.   Making a qualitative and quantitative assessment of the extent to which the expected levels of efficiency, effectiveness and accountability have been achieved.
The Minister further stated that it is the Government's expectation that this manpower audit will be the first step towards reforming the administration and operations of the Police Service, as well as enhancing the nature and quality of the relationship it shares with the public.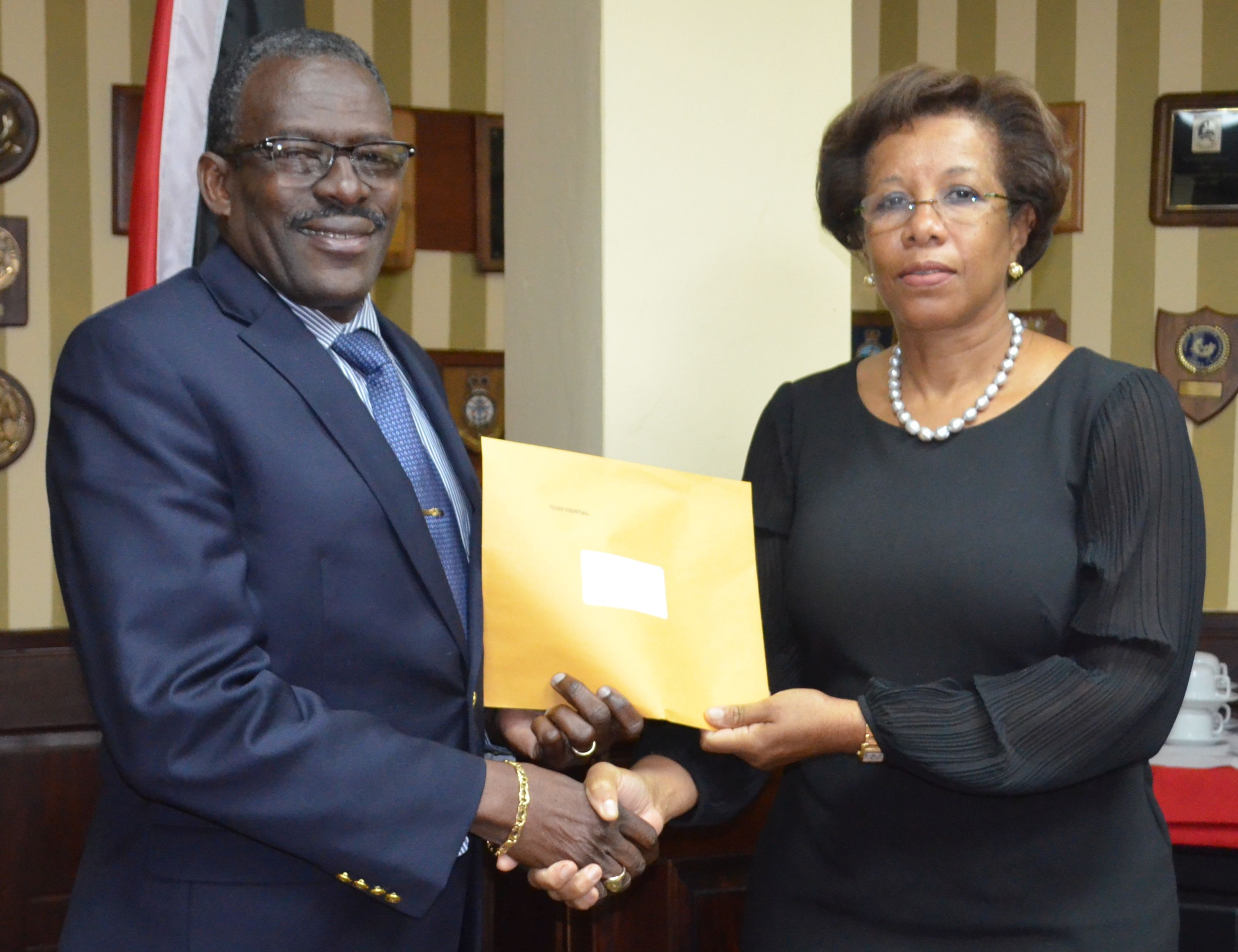 Minister of National Security, Major General Ret'd the Honourable Edmund Dillon presents a committee member, Dr. Levi Guy-Obiakor with her Letter of Appointment. 
###
For further information please contact:
The Corporate Communications Unit
Ministry of National Security
868-624-5771