Ministry of Works advises of a temporary traffic disruption on Manahambre Road
May 19, 2017: The Ministry of Works and Transport wishes to advise the public that there will be a temporary traffic disruption along Manahambre Road from Usine Road to Food Basket, St. Charles Junction. This has become necessary to facilitate the replacement of a culvert crossing. Work will commence on Sunday May 21, 2017 at 8am and is scheduled to end on Monday 22, May 2017 at 4am.
The public is advised to utilize the undermentioned alternative routes and comply with the following directions:
• Traffic will be diverted through St. Charles Road onto Pond Road and back onto the Manahambre Road in the vicinity of the Golf Club.
• Alternatively traffic can utilise St. Charles road to access the Cipero Road, turn onto M2 Ring Road and back onto Manahambre Road.
• Members of the pubic are kindly asked to follow all instructions from Police Officers on site to facilitate a safe and orderly flow of traffic.
• Please be aware of heavy equipment entering and exiting the site.

The Ministry of Works and Transport regrets any inconvenience caused and thanks the public for its cooperation.
For further information, please visit the Ministry's website (www.mowt.gov.tt) or call Highways Division at 652-4671.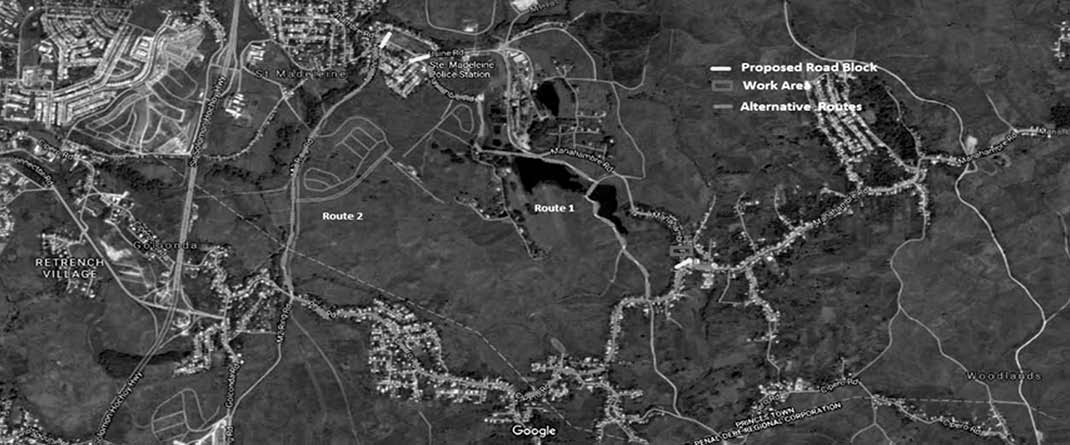 ###