Ministry Takes Social Services to Residents of Enterprise Chaguanas
August 24, 2017: Over 150 residents from Chrissie Terrace, Lendore Village, Chaguanas benefitted from a Community Awareness and Development Drive, which was hosted by the Community Police, Central Division of the Trinidad and Tobago Police Service on August 4, 2017. The initiative which took place at the Chrissie Terrace Recreational ground, formed part of the Central Division's various efforts to empower residents of this, and other socially challenged areas within the central region, in the fight against crime and criminal behaviour.
In attendance were Mayor for Chaguanas His Worship, Gopaul Boodan, Councillor Enterprise South, Ronald Heera, and the Vice President of the Cunupia Business Chamber Adrian Jaikaran.
Residents who attended were given an opportunity to interact with personnel from various key governmental Ministries and agencies and were privy to information on how to access social services and obtain the much needed psychosocial support.  
The Ministry of Social Development and Family Services, in accordance with its mandate of "Helping…, empowering…, transforming lives, presented its suite of grants and services which included Public Assistance, Disability Assistance, Rental Assistance and Food Support the Retiree Adolescent Partnership Programme, as well as information on HIV/AIDS. Free psychosocial support and counselling was also provided by the Ministry's National Family Services Division.
Among the other agencies present were the North-Central Regional Health Authority, On-the-Job Training Programme, the National Maintenance Training and Security Company Ltd (MTS) and the Ministry of Labour, Small and Micro Enterprises.
The Ministry of Social Development and Family Services was pleased to partner with the Central Division of the Trinidad and Tobago Police Service for this very important initiative.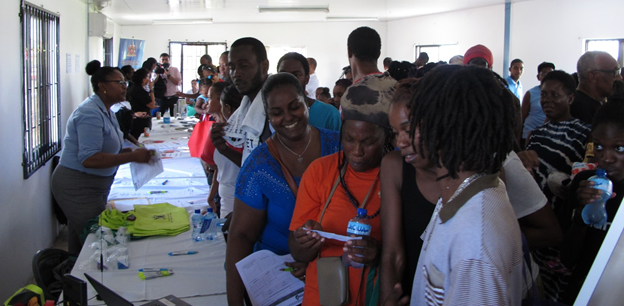 Accessing Services: Pleased participants of the Community Awareness and Development Drive accessing the cadre of services that were available during the outreach initiative.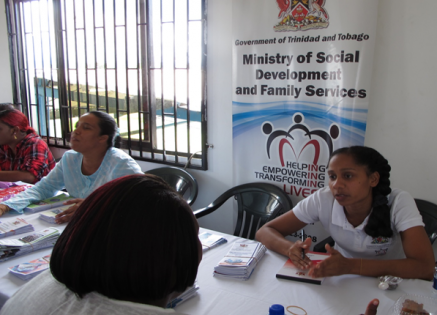 Passion to Empower: A National Family Services Social Worker listens attentively to a resident's concerns.
###
For more information contact:
Communications Unit Ministry of Social Development and Family Services (868) 623-2608; Ext 5405/5432