Ministry of Social Development and Family Services takes key services to Cunupia Secondary
May 22, 2017: In keeping with the mandate to help…, empower… (and), transform… lives, the Ministry of Social Development and Family Services, attended a Community Outreach Initiative at the Cunupia Secondary School, which was hosted by the Ministry of National Security's, National Drug Council. The outreach initiative was held on Friday 21 April, 2017 and was conducted in recognition of the United Nation's International Day Against Drug Abuse and Illicit Trafficking.
Staff of the Ministry's National Family Services, Disability Affairs Unit, Retiree Adolescent Partnership Programme and HIV/AIDS Coordinating Unit attended the outreach and provided information via an information booth, on the Ministry's programmes and services, as well as mentoring to the scores of students from both primary and secondary schools within the Cunupia/Enterprise district who visited the Ministry's booth.
Scores of students visited the information booths to test their knowledge on available social services, drug abuse and illicit drugs as well as to listen to testimonies from incarcerated youths from the Youth Training Centre. The Community Outreach Initiative which was well received by the children and young adults who participated, also featured a day of novelty games and activities for the students. Also participating in the initiative were the Prisons and Police Services, Regiment, Cadet Force, Juvenile Court and Coast and Air Guards.
Following the Initiative, the Principal and staff of the Cunupia Secondary School, thanked the Ministry of Social Development and Family Services and the other participating agencies for their attendance and expressed that the students who participated should benefit from the extensive information that was provided during the event.
The Ministry was pleased to have participated at this interactive and informative event.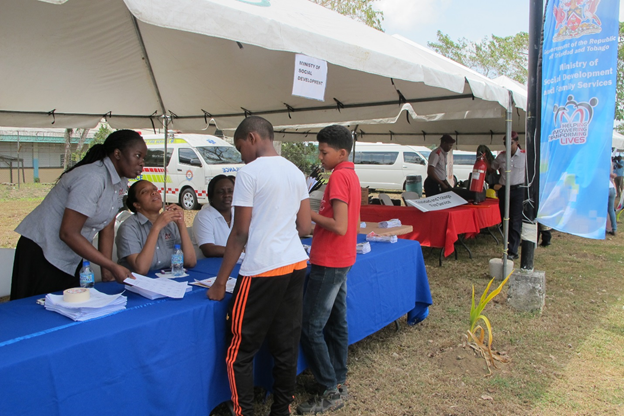 Staff of the Ministry of Social Development and Family Services interact with patrons.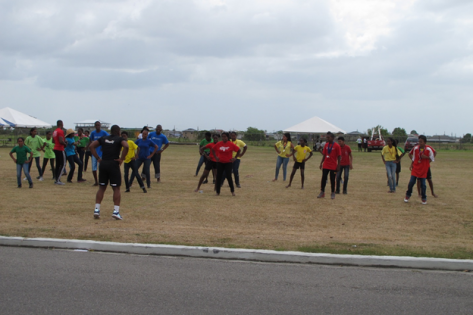 Keeping fit: Some students and staff came together for an aerobics burnout.
-END-
For further information please contact:
The Communications Unit
Ministry of Social Development and Family Services
868-623-2608 Ext.5405/5432