Ministries of Social Development and Local Government meet to discuss Local Government Reform
April 18, 2017: On Wednesday April 12, 2017, the Ministry of Social Development and Family Services met with the Ministry of Rural Development and Local Government for a discussion on Government's policy for Local Government Reform, as it relates particularly to the transfer of the delivery of social services to the municipal corporations.
Present at the meeting were Permanent Secretaries at the Ministry of Social Development and Family Services, Jacinta Bailey-Sobers, and Joy Persad-Myers as well as Permanent Secretary at the Rural Development and Local Government Ministry, Ms Desdra Bascombe, and other members of both Ministries' executive teams.  The Task Force for Local Government Reform was also represented by several of its members. Technical and Field Officers of both Ministries were also present.
Among the items discussed were, the objectives of the reform, the services proposed for devolution and possible challenges to the reform process. Discussions also included possible approaches to the transition of services and the legislative amendments which may be required to effect the reform as it relates to social service delivery. Other key areas identified by the Ministry representatives to be addressed included:
•          Capacity Building/Training
•          Recruitment/Staffing
•          Accommodation
•          Change Management
•          Culture
Both Ministries agreed that there was need for further dialogue and to continue to work together to ensure that there is a clear understanding of what is required for the transition to Local Government Reform.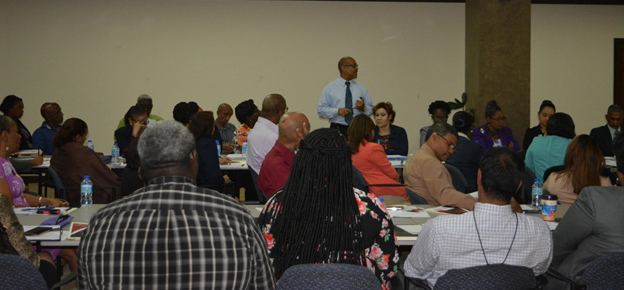 A cross section of the personnel from both Ministries during the discussion at the Local Government Reform on Wednesday April 12, 2017. 
-END-
For further information please contact:
The Communications Unit
Ministry of Social Development and Family Services
868-623-2608 Ext 5405/5432         
​