Minister Sinanan Launches Heavy Truck Inspection at the Caroni Licensing Office
August 22, 2017: On August 22, 2017, Minister of Works and Transport, Senator the Honourable Rohan Sinanan officially introduced the new service of heavy truck inspection at the Caroni Licensing Office.  This new facility at Caroni will now relieve heavy truck inspection at the Port of Spain and San Fernando Licensing Offices.  Minister Sinanan shared, "An issue we have with traffic fluidity, and especially in Port of Spain is that Wrightson Road is inundated with heavy trucks along the way to and from inspection.  This relocation of the service will free-up the roads considerably."
Further benefits to this change in service location will provide heavy truck drivers with access to more state of the art equipment.  In fact, Caroni's location has the capacity to inspect vehicles that are 40ft and weigh 30 tonnes.  Its inspection bays can also weigh vehicles with the capacity of 45 jacks. 
This new offering for heavy vehicles is the latest addition to an ever growing complement of services offered to patrons of the Licensing Authority.  For instance:
Vehicle owners can now obtain their certified copies at any licensing office thanks to the agency's new centralised computer system. 
This new era of digital capability also provides the printing of certified extracts.  Previously hand written, this documentation given to owners of newly registered vehicles provides added evidence of ownership. 
As well, Caroni has optimised its processes that govern the registration of maxi taxi and school busses.  In this regard, it has reduced the duration of such from four months to one week and added the courtesy of a phone call when records are available for pick up. 
The public can also anticipate further improvements to licencing services when the new Arima Licensing Office launches in the very near future.
On this occasion, the Minister of Works and Transport also took the opportunity to encourage Licencing Officers and Traffic Wardens to "carry out, to the full extent", their authority in enforcing the applicable laws that govern the regulation of heavy trucks riding along motorways not designed for their weight.  Breaches of such laws cause expensive damage to our roads such as cave-ins due to excessive truck weight.
He warned that in the near future, the Ministry will more closely monitor such violation by "setting up bays at designated locations".  There, trucks will be pulled off the roads by authorities and weighed on the spot.   In the event that a truck is overweight, the driver will be charged and the items on the truck will be impounded in accordance with the Motor Vehicle and Road Traffic Act Chapter 48:50 Sect 21 (1) (c).
Listed below is the full range of services that are also offered at the Caroni Licensing Office:-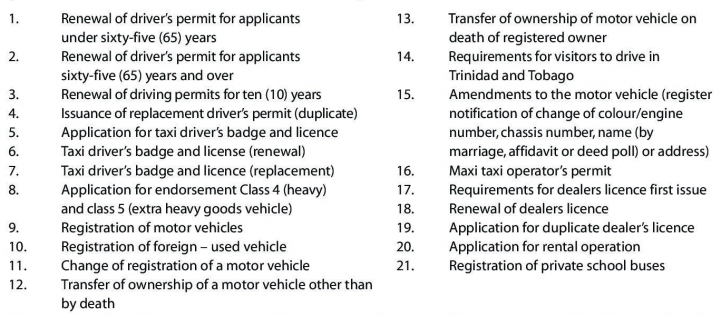 ###
For more information contact:
MINISTRY OF WORKS AND TRANSPORT Corporate Communication Unit Corner Richmond and London Streets, Port of Spain Tel: (868) 625-1225 Ext.  10811/10813