Minister of Rural Development and Local Government visits Lakhan Karriah Cremation Facility
November 22, 2017:  Yesterday Minister of Rural Development and Local Government Haji Kazim Hosein along with Ministry officials conducted a site visit at the Lakhan Karriah Cremation Facility in Felicity. They were accompanied by, Member of Parliament for Chaguanas West Ganga Singh, Deputy Mayor of the Borough of Chaguanas Faaiq Mohammed, Councillor for Felicity/Endeavour Debideen Manick and members of the Chaguanas Borough Corporation.
The cremation site currently shares a space with two marinas and fishermen from the area along with a leisure boat service. Member for Chaguanas West Mr. Ganga Singh, referred to the juxtaposition of "the sacred and the profane," as undesirable for the residents who utilize the cremation facility, warranting its need to be relocated. Following the examination of the site, the contingent viewed a potential relocation site at the Caparo River.
Minister Haji Kazim Hosein expressed his sincere understanding of the plight of the residents who would like to undertake their religious ceremonies and mourning unhindered and without disturbance. "We thank the Member of Parliament, Mr. Ganga Singh for bringing this issue to the attention of the Ministry. We are committed to working with the Chaguanas Borough Corporation to resolve this issue, and we are looking at the feasibility of relocating the site to somewhere more fitting for the people who require this facility. While we encourage the growth of local industry such as the two marinas and the fishing depot that have developed here, it is not ideal for the religious and the recreational to exist in this same location. We are committed to working with all stakeholders especially the Hindu community, as religious bodies are key pillars in our society. Consultation with the public will be held to find the best way to establish a facility that will be respectful to all. Following the consultation, we will await the decision from the Chaguanas Borough Council for the new proposed site so that the Ministry can assist in the appropriate manner."
Permanent Secretary in the Ministry of Rural Development and Local Government Ms. Desdra Bascombe urged representatives of the Chaguanas Borough Corporation to submit draft plans for the development of a new cremation facility at a different site, so that it could be submitted as a project under the Public Sector Investment Programme for the next fiscal year.
Consultation with the public on this matter is expected to be held by the Chaguanas Borough Corporation in mid-December on a date to be provided by His Worship the Mayor Gopaul Boodhan. All NGOS, members of the business community, religious bodies, schools, as well as people from surrounding community are invited to attend.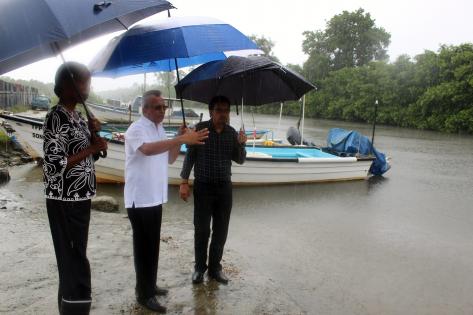 Minister Haji Kazim Hosein, Permanent Secretary Ms. Desdra Bascombe and Member of Parliament for Chaguanas West Ganga Singh at the shared sluice gate at the Lakhan Karriah Cremation Facility
###