Minister Rambharat: Do the right thing and protect our environment
March 6, 2017: 'We do not want people riding the backs of the turtles, rather we should enjoy them as we are very fortunate to have this treasure here' said Senator Clarence Rambharat, Minister of Agriculture, Land and Fisheries.  He specifically called on visitors during the Turtle Season to 'do things the right way', use the services of guides who are trained and registered, and ensure that you have a permit to be present in the protected areas.
The Agriculture, Land and Fisheries Minister led volunteers in Nature Seekers' Annual Beach Clean Up in Mathura on Sunday 5th March, in preparation for the Turtle Season.  'It should be members of the community, NGOs and the like, taking the lead in clean-up activities'; and Mathura in particular is a close community that in preparation for the turtle nesting season is 'doing a great job' in marshalling the forces together to clean up the beach the Minister further noted.  Asked how important it is to preserve the leatherback turtle, Senator Rambharat said 'it is extremely important and the work of the Game Wardens supports the preservation efforts'.
A highlight of the day's activities included a Sand Turtle Competition, which saw some 15 teams participating, with the first prize being awarded to Trinidad and Tobago Youth Ambassadors.  The almost two thousand volunteers saw youth involvement from schools and youth clubs including Pathfinders, ASJA Girls, YTEPP, QRC Boys Scouts, Trinidad Sea Scouts, Rotaract Club, Earth Heroes, and many more.
Other participating organisations included the Turtle Village Trust, Environmental Management Authority, Institute of Marine Affairs, among others.
Nature Seekers' 2017 theme is 'nature is everyone's responsibility' and the Annual Clean up sought to create an opportunity to inspire a new generation of thinkers and doers of our society to connect with nature and take action to support environmental conservation.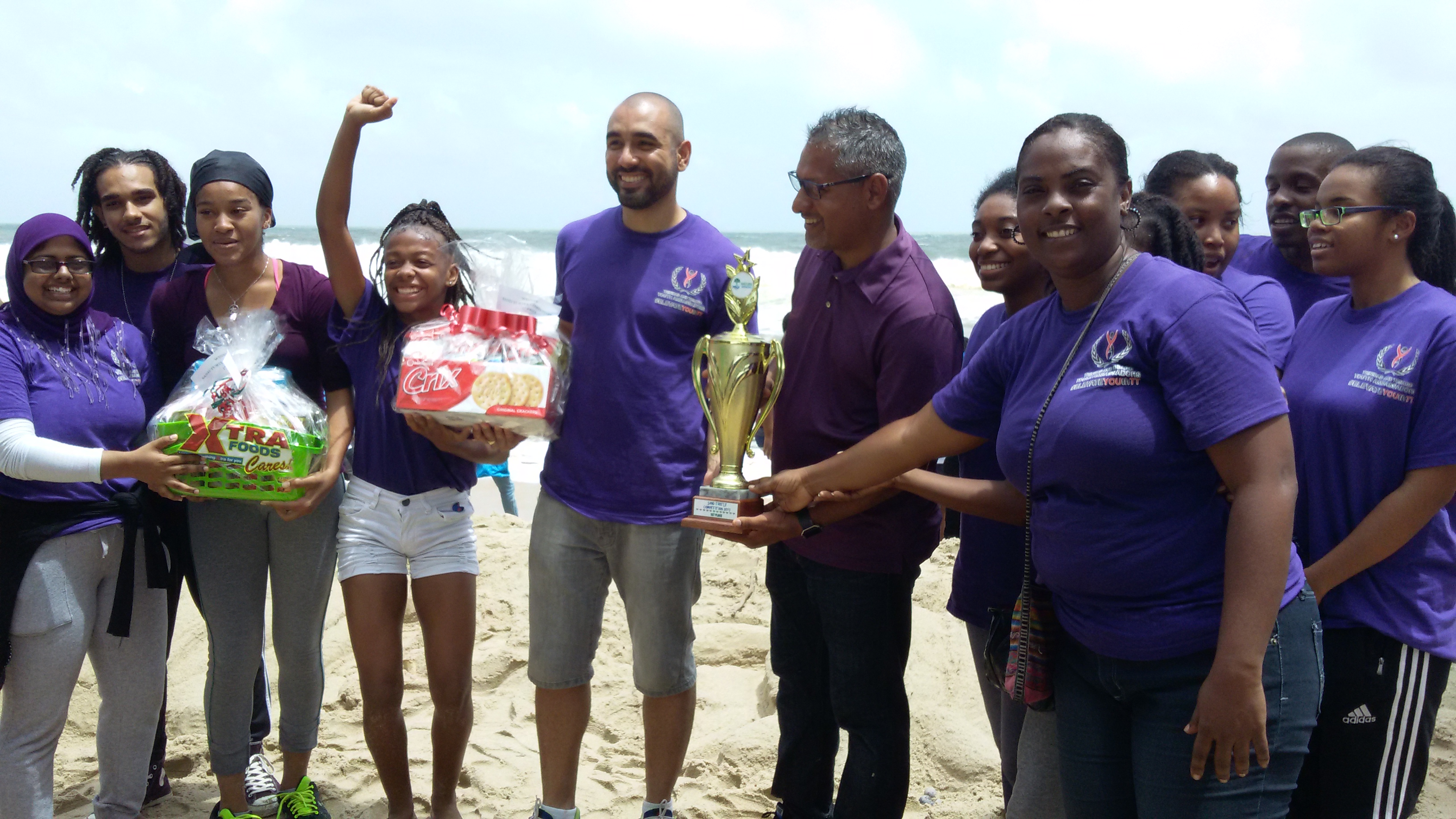 Senator the Honourable Clarence Rambharat presents members of the Trinidad and Tobago Youth Ambassadors with the 1st Prize for the Sand Turtle Competition.
###
For further information please contact:
The Corporate Communications Unit
Ministry of Agriculture, Land and Fisheries
868-622-1221