GREEN PAPER - Transforming the Civil Service: renewal and modernization.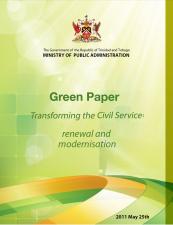 This Green Paper on "Transforming the Civil Service through renewal and modernisation" outlines the critical measures to be undertaken by the Government of Trinidad and Tobago (GoRTT) in order that the Civil Service becomes a responsive organisation, and one with a clear focus on service delivery, for the purpose of ensuring that Government's performance is optimised. The key influences driving the need for change include:
• the global environment;
• the potential decline of oil and gas reserves and their possibly diminished future contribution to the country's Gross Domestic Product (GDP);
• client dissatisfaction as evidenced by surveys conducted; and
• The National Framework for Sustainable Development.