Giant African Snail Task Force meets at 25th Session
May 8, 2017:'This Ministry will deal with this matter; [however] it is not an individual effort since this pest affects farmers, and the public [at large] thus it is a national issue'.  Those were the words of Senator Avinash Singh, Parliamentary Secretary, Ministry of Agriculture, Land and Fisheries at the 25th Giant African Snail Task Force Meeting, hosted on Friday 5th May, 2017.  Senator Singh endorsed the support of the collective efforts of all parties that have offered their competence and expertise, including the various Regional Corporations and Regional Health Authorities. 
He reiterated that 'Government's role is to structure policy and it is for the staff of the Ministry to implement Government policy'; stating that 'with the limited resources that we have, we need to make wise use of it; we have been tasked with this responsibility to deal with this problem so that it does not affect the farmers' productivity, it is for us to take every action, every possible step to deal with this pest'.
The employees of the Giant African Snail Task Force also came in for some praise, with Senator Singh sharing that he had 'been out on the fields with [you]; and all we ask is that you do your jobs to the best of your ability'.
Welcome Remarks were delivered by Mr. Dale Nandlal, Director Research Division.  While Ms. Deanne Ramroop, Deputy Director Research Crops (Ag.) outlined the agenda for the day; Mrs. Nazia Alishan, Agricultural Officer I provided the Committee with a status update and outlined the various activities undertaken.  Arising from this Committee Meeting, a Proposal/Action Plan to chart specific actions on the way forward will be finalized submitted within two weeks and implemented within one month.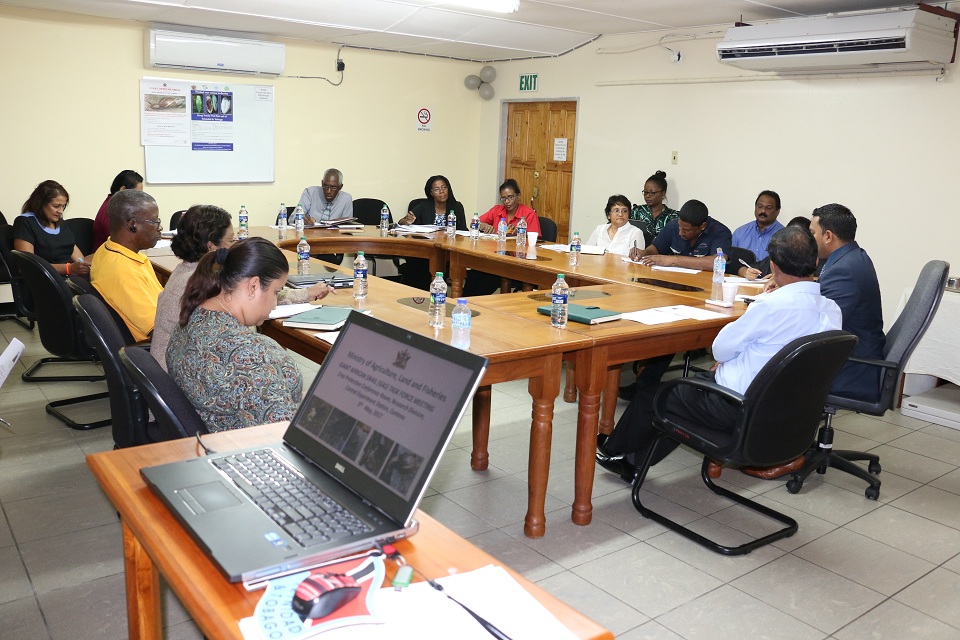 A cross-section of members of the Giant African Snail Task Force.
###
For further information please contact:
The Corporate Communications Unit
Ministry of Agriculture, Land and Fisheries
868-622-1221