Forensic Science Centre Indoor Shooting Range Refurbished
November 1, 2017: Firearm Examiners and Integrated Ballistics Identification System (IBIS) Technicians assigned to the Firearms Section of the Trinidad and Tobago Forensic Science Centre will from today operate in a newly refurbished Indoor Shooting Range at the Centre.
On Tuesday 31st October 2017, the Ministry of National Security in collaboration with the United National Regional Centre for Peace, Disarmament and Development in Latin America and the Caribbean (UNLIREC), commissioned the refurbished Indoor Shooting Range at the Trinidad and Tobago Forensic Science Centre (TTFSC). 
The refurbishment included the installation of new acoustic panels, rubber flooring and Backstop, ballistic tiles and ballistic floor mats.
The refurbished facility will bolster the TTFSC's forensic ballistic capacity in conducting testing on suspected firearms recovered from crime scenes. The ensuing strengthening of evidence analysis will have a redounding effect on crime detection as well as enhancing the criminal justice process. The facility also enables an improved health and safety environment for the Firearm Examiners.
This refurbishment project forms part of a UNLIREC initiative with the Ministry of National Security entitled "Combatting Illicit Firearms and Ammunition Trafficking in the Caribbean through Operational Forensic Ballistics".
The UNLIREC tailor-made Operational Forensic Ballistics Assistance Package (OFB) to eight Caribbean States, including Trinidad and Tobago, is implemented with the support of the Government of the United States and the Government of Canada. The OFB seeks to advance: small arms control at national forensic services, international standard operating procedures and information sharing; as well as facilitate human resource capacity building through training. This refurbishment was brought to fruition through the combined efforts of the TTFSC and UNLIREC, with the financial support of the United States Government.
The refurbishment is in alignment with the Government of the Republic of Trinidad and Tobago's efforts to undertake a holistic upgrade of the Trinidad and Tobago
Forensic Science Centre, with a view to enhancing service delivery and crime detection. Infrastructural upgrades and other initiatives already in progress include the appointment of a DNA Custodian to manage the National Forensic DNA Databank; the acquisition of a Genetic Analyzer to quicken the processing of DNA exhibits for court matters; the implementation of the Laboratory Information Management System (LIMS) and the Accreditation of TTFSC laboratories.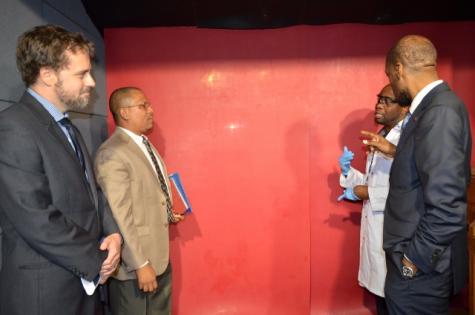 A Firearm Examiner at the Trinidad and Tobago Forensic Science Centre (TTFSC) (second from right) discusses some of the features of the acoustic panels and backstop installed at the indoor shooting range with Permanent Secretary Lewis (first from right); Mr. Jason Hammontree, Security Policy and Assistance Coordinator, United States Embassy in Trinidad and Tobago (first from left); and Mr. Jason Francis, Senior Policy Advisor, UNLIREC (second from left).
###