Fish testing to be conducted by the US Food and Drug Administration Laboratory
September 20, 2016: Fish samples will be sent to the Food and Drug Administration laboratory in the United States for testing.  This was confirmed at a meeting of all stakeholders convened on September 19, 2016 at the main office of the Ministry of Planning and Development, level 14 of the Eric Williams Financial Complex. 
Present at this meeting were representatives of the Environmental Management Authority (EMA); the Institute of Marine Affairs (IMA); the Caribbean Industrial Research Institute (CARIRI); the Permanent Secretary, Chief Medical Officer and Public Health Inspectors of the Ministry of Health; the Ministry of Agriculture, Land and Fisheries; the Food and Agricultural Organisation (FAO) and the Pan American Health Organization (PAHO). 
Coming out of the discussions the confirmed actions to be taken are as follows: 
Laboratory testing of various species of fish in 12 geographic areas where landing sites are located, namely La Brea, Carenage, Cedros, Icacos, Kings Wharf, Mayaro, Maracas/Las Cuevas, Carli Bay, Claxton Bay, Otaheite and 2 fishing sites in Tobago.
The areas selected are located within range of the major fishing environments so as to provide sufficient data.  The fish samples from these areas will be tested for the following heavy metals (lead, copper, mercury, zinc) as well as poly aromatic hydrocarbons (PAHs). 
Some of the species selected for testing, based on local consumption patterns, are kingfish, carite, salmon, shark, mullet, catfish, shrimp and species common to Tobago. 
Specimens will be collected by Public Health Inspectors based on the protocols prescribed by the FDA laboratory.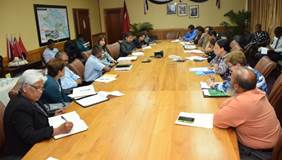 Institutional stakeholders in a meeting to finalise arrangements for fish testing by the US FDA.
###
For further information please contact:
The Corporate Communications Unit
Ministry of Planning and Development
868-627- 9700 Ext. 2074/2075/1406