Education Ministers tour Technology Centre in Tobago
May 24, 2017: While in Tobago conducting ministerial business on May 22, 2017, Minister of Education, the Honourable Anthony Garcia, Minister of State in the Ministry of Education,Dr Lovell Francis and a ministerial team paid a courtesy call to the MIC Institute of Technology's Tobago Technology Centre located at Milford Road, Canaan. The Ministers, also accompanied by MIC-IT's ChairmanProfessor Clément Imbert, Chief Executive Officer, Anil Ramnarine, the Tobago Technology Centre Manager, Jean Nichols and other Executives, toured the state-of-the-art building in time to see, first-hand, the modern Electrical, Welding and Technical Drawing classes in progress.
The Tobago Technology Centre is the largest Technical/Vocational Educational Training facility of its kind in Tobago and offers Industrial Maintenance, Electrical, Electronic and Mechanical Engineering Technology under the German accredited National Skills Development Programme (NSDP).Trainees also reap the benefits of gaining skills in Industrial Crafts such as Electrical Installation (Domestic and Industrial), Welding, Auto and Diesel Technology,Plumbing, Air Conditioning and Refrigeration and General Draughtsmanship.
Chairman of MIC-IT, Professor Imbert stated that, "These programmes can only bring tremendous benefits to Tobago by offering opportunities to develop the workforce and by extension the island."Minister Garcia also pointed out the convenience for Tobagonians who no longer have to travel to Trinidad or anywhere else to receive technical vocational education and training andrecognized certification from an accredited institution. "This is a direct result of the mandate of the Government of Trinidad and Tobago. We are committed to expanding tertiary education in Tobago to facilitate human capital development and our goal is for Tobagonians to benefit from this full access to quality training."
Both Ministers were very impressed with the skills and competencies demonstrated by the trainees at the Centre and the various technologies and modern equipment being used in each discipline. They applauded MIC-IT for continuing its role in developing the workforce and providing opportunities for persons to become entrepreneurs and industry-ready.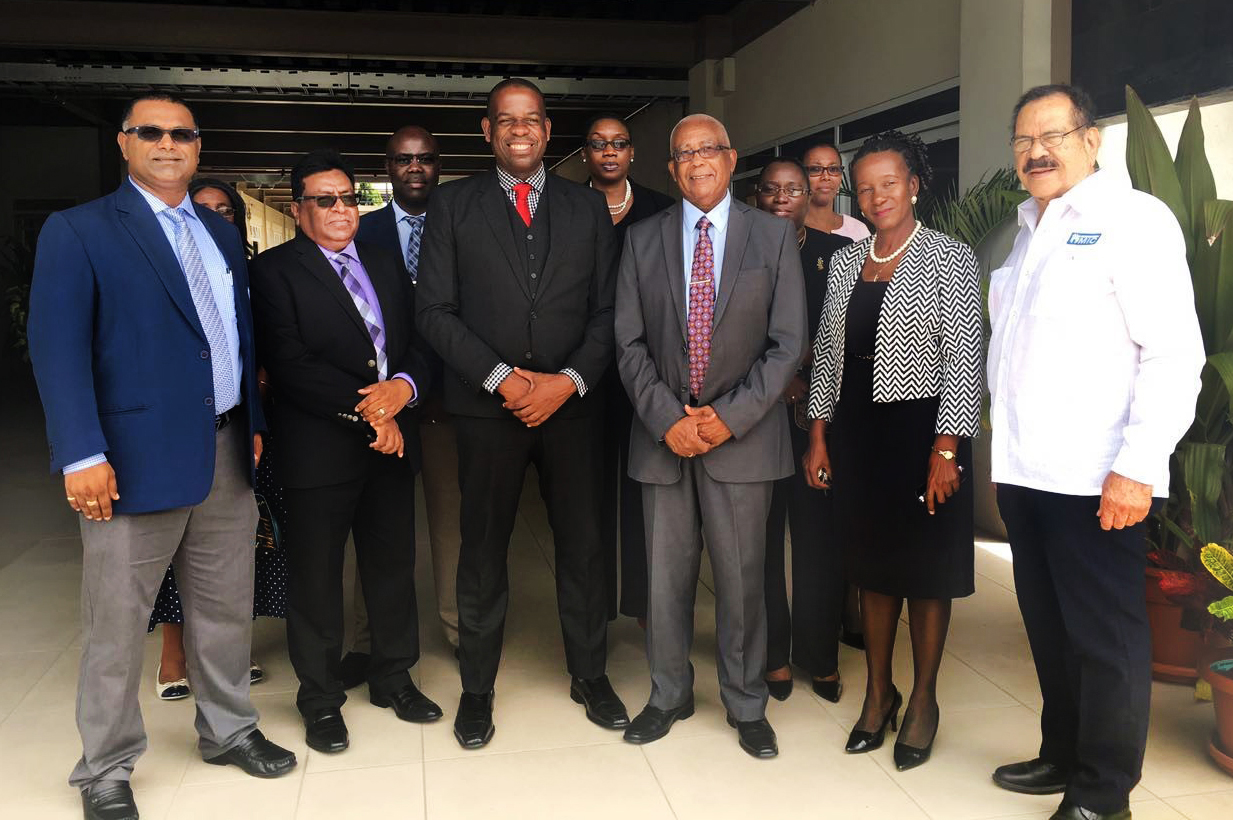 (L-R): Chief Executive Officer, MIC-IT, Anil Ramnarine; Chief Educational Officer, Ministry of Education, HarrilalSeecharan; Assistant GM, Operations, Training Division, MIC-IT, Ian McIntosh; Minister of State in the Ministry of Education, Dr Lovell Francis, Permanent Secretary,Minister of Education,Lenor Baptiste-Simmons, the Honourable Anthony Garcia, Tobago Technology Centre Manager, Jean Nichols and MIC-IT Chairman, Professor Clément Imbert and other team members on tour at the Tobago Technology Centre.
###
For further information please contact:
The Corporate Communications Division
Ministry of Education
868-628-6769