Community Development Ministry hosts mentorship programme geared towards making women winners
May 2, 2017: Through this programme, "young ladies have recognised that they have been created limitless", this was the sentiments expressed by Deputy Permanent Secretary, Ministry of Community Development, Culture and the Arts, as she delivered the feature address at the Graduation Ceremony of the Reach Mentorship Programme, held at the Adult Education Centre, St, Ann's on April 29.
She pointed out, that this approach of guiding and developing young persons, will equip them with the tools to explore their true potential and aid in preparing them for the future. Deputy PS Beverly Reid-Samuel, further advised the mentees to continue using the techniques gained from the programme, so that they can be empowered and journey as far as their minds can take them. 
The programme which took place over a four week period, was a collaborative effort of the Ministry, the Association of Female Executives of Trinidad and Tobago (AFETT) and Port-of-Spain North and St Ann's West MP, Stuart Young.
MP Young, also Minister in the Ministry of the Attorney General and Legal Affairs and Minister in the Office of the Prime Minister, expressed his heartfelt thanks for such a venture.   He stated that "programmes like these are what makes a difference in society today", adding that, young people are the beacons of Trinidad and Tobago, and every life touched can only bring about great benefits for the country at large. He ended by encouraging the young ladies to take what they have learnt and impart it on their peers, as they should always try to positively affect the lives of others. 
In her remarks, Tricia Leid, president of AFETT, said "having a vision is one of the truest forms of success", she pointed out that, what makes this programme rewarding was the interaction and vision sharing amongst the mentees.  This she insisted, has allowed for learning to be taken from each participant, which is a proven method of gaining knowledge in a short space of time. 
Mentees Zaahirah Harroo and Cheyenne Cabera also shared their experiences, highlighting that the programme has thought them key skills which they would be using towards self-improvement. Zaahirah noted the use of a vision board, which can be used to set out goals and gives a visual sense of determination, while Cheyenne spoke on the confidence she has gained and the way the programme has expanded her scope towards her future.  Both mentees concluded that they have been thought how to carry about themselves as young ladies, a lesson which they admitted is vital and holds no limits.
In closing Joanna Gonsalves Director, Social Outreach, AFETT applauded the efforts of both the Ministry of Community, Development Culture and the Arts and MP Stuart Young, likewise her associates at AFETT, for the success of such a significantly impactful programme.  One she believes, truly contributes to developing bold and courageous young ladies.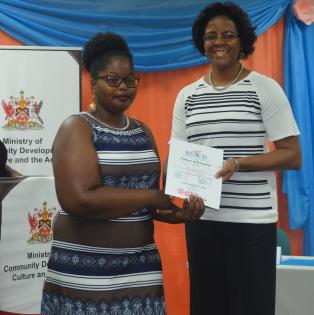 Mentee Zaahirah Harroo receives her certificate from Ministry of Community Development, Culture and the Arts, Deputy Permanent Secretary, Beverly Reid-Samuel.
-END-
For further information please contact:
The Communications Unit
Ministry of Community Development, Culture and the Arts
868-624-5004 Ext. 5145 / 5148