Barrackpore Farmers Report "Worst Ever" Flooding; Urged to Report Crop Losses to Agriculture Ministry
October 25, 2017: Incessant rainfall which resulted in mass flooding throughout various parts of South Trinidad last week, has been described by several Barrackpore farmers as the "worst ever" experienced in recent times. Such was the feedback conveyed to staff of the Ministry of Agriculture, Land and Fisheries' County Victoria Office - Agricultural Assistant I, Mr. Anil Bridgelal and Agricultural Extension Aid, Mr. Mohan Bachoo - during a tour of the Barrackpore area on Tuesday 24th October, 2017.
This tour formed part of the County's ongoing reconnaissance efforts, which, according to Mr. Bridgelal, "was necessary in order to accurately ascertain the actual losses suffered by farmers as well as the quantum of reimbursement claims." He noted too that farmers needed to formally contact the Ministry's Extension Officers (in each of the respective Counties) in respect to claims for agricultural loss as a consequence of recent floods. Even Mr. Rajish Gosine - a poultry farmer of the Rochard Douglas Main Road in Barrackpore - who claimed to have lost some "8,177 chickens last Wednesday [October 18th, 2017]," was also encouraged to apprise Ministry personnel of same.
One Teesdale Trace farmer - Mr. Inderpersad Maharaj - praised the Ministry's ground response following the advent of the floods. He said: "Though previous reimbursement and subsidy claims have been a bit tardy, I can and must commend the County's staff particularly for their presence and continued support in doing their part." Mr. Maharaj said the flood waters incurred a loss of some 0.4 hectares of cucumber and 0.8 hectares of corn.
Also accounting for agricultural losses was Mr. Roopnarine Narine of Rochard Douglas Main Road who cited damage to some 0.2 hectares of cucumbers and hot peppers, respectively and some 0.4 hectares of melongene and pumpkin, respectively. "I have experienced floods before but none has had the impact like this one. Even the loss I felt as a result of Tropical Storm Bret (some four months ago), can in no way be compared. This was the worst ever," Mr. Narine said.
Apart from Barrackpore, other affected areas include: Oropouche, South Cunjal, Cumuto, Moruga, Williamsville, Debe, Bonne Aventure and Moruga (La Ruffin and La Savanne). Farmers and residents from these areas are reminded of the need to take all necessary precautions toward securing the safety of both themselves and their properties.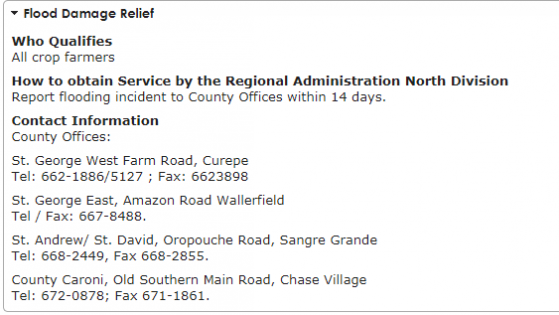 ###