Agriculture Ministry's County Victoria hosts Primary School's 4H Poster Competition 2017
June 27, 2017: County Victoria Agricultural Office of the Ministry of Agriculture, Land and Fisheries, in collaboration with the County Victoria's 4H Voluntary Leaders Council, hosted its 2017 4H Poster Competition on June 13th 2017 under the theme "Recycling for a Better Tomorrow", with the watch words "Reuse, Recycle and Reduce".
The judging team of Reynold Ramdial, Agricultural Officer I; Joanne Ramsamooj, Agricultural Assistant I; and Saleem Shah, Agricultural Assistant I indicated that the judging was very difficult as the participating twenty-six (26) 4H'ers produced posters of high quality, each poster perfectly depicting the theme.  Mrs. Anuradha Pooran Ramroop, 4H Coordinator, County Victoria commended both the 4H'ers and Voluntary Leaders for their hard work and continued dedication to the programme.  Ms. Sati Gangapersad, County Agricultural Officer, engaged the young 4H'ers in a discussion of recycling, underlining the criticality of young people, as the leaders of future generations, championing environmental sustainability, to ensure a better tomorrow.
The participating students came from the surrounding Primary Schools of Marac Baptiste; Barrackpore ASJA; St Clements Vedic; Tortuga Government; Nipal Presbyterian; St Mary's Government; Princes Town ASJA; Santa Maria RC; Iere Government; Mt. Pleasant Government; Sixth Company Anglican; and Nipal Presbyterian.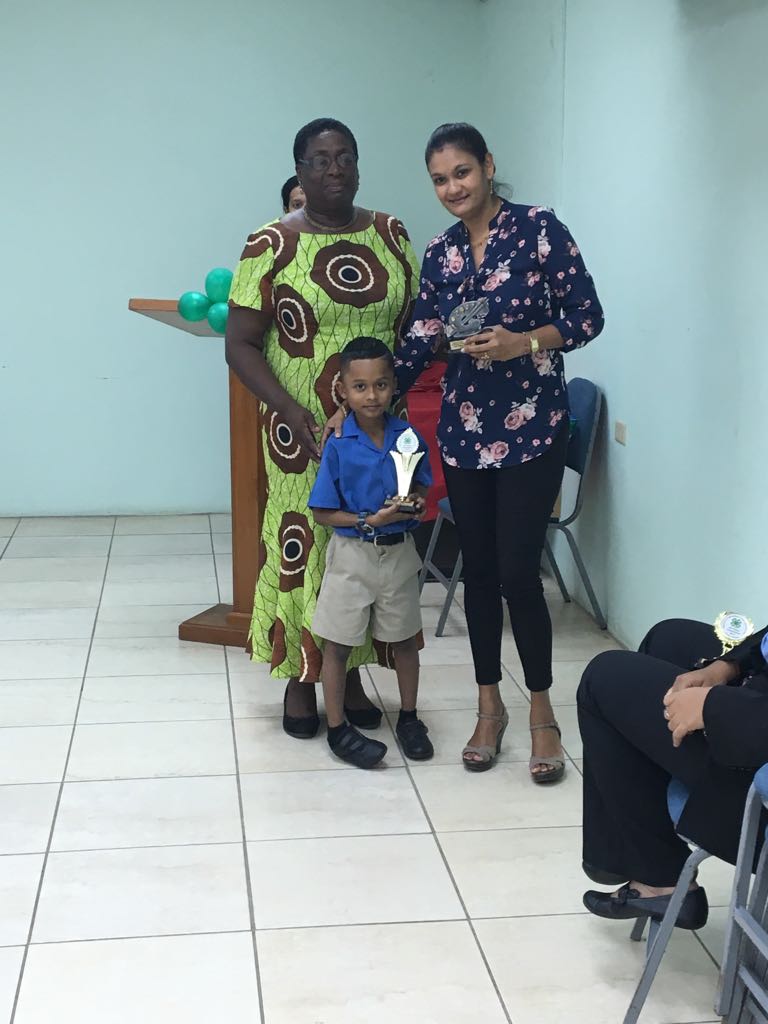 Young student receiving his prize.
###
For further information please contact:
The Corporate Communications Unit
Ministry of Agriculture, Land and Fisheries
868-622-1221