Agriculture Ministry commemorates World Tuna Day... A highlight on the value of tuna to T&T
May 1, 2017: May 2 is World Tuna Day! A day dedicated by the United Nations to raise awareness of the value of tuna resources, the threats facing tuna populations and the social and economic benefits to be gained by sustainably managing the stocks.  It is prudent for a coastal State like Trinidad and Tobago, with waters under its sovereignty potentially more than 15 times its land mass, to pay attention to conservation and management of its living marine resources.
The major commercial fleets of Trinidad and Tobago's tuna fishery are the pelagic longline fleet that is based mainly in Trinidad - these larger-scale, semi-industrial vessels fish farther out and even on the High Seas - and the small-scale artisanal fleets (pirogues) of both islands which catch tuna in the coastal waters.  Overall, these fleets total around 2,000 vessels of which over 95% are pirogues.  Over the past five years (2012 to 2016) the longline fleet has landed over 7,000 tonnes of yellowfin tuna, bigeye tuna and albacore, with yellowfin tuna making up 90 percent of these landings.  The fleet benefits from a lucrative export market in the US; 88 percent of the landings over the five-year period were exported there with an estimated ex-vessel value of just over US$30m.  Over the same five-year period greater than 837 tonnes of the three species were sold locally at an estimated ex-vessel value exceeding TT$5.6m.  Other tuna species such as skipjack tuna, blackfin tuna, frigate tuna, Atlantic bonito and little tunny are also very important to the local economy.
There are operations in every ocean and the fisheries in some regions are growing in capacity.  Commercial tuna fisheries are among the most lucrative fisheries globally.  A 2016 study carried out for the PEW Charitable Trusts found that in 2012 the Atlantic Ocean catches of the major tuna species (yellowfin tuna, skipjack tuna, bigeye tuna, bluefin tuna and albacore) were about 478 000 tonnes with an ex-vessel (first sale) value of US$1.36 billion. These figures amount to a little over 10% of the global catches of these tuna species and 11% of their global ex-vessel value.
More than being highly appreciated as food fish, tunas are also admired as predators in terms of their size, speed and power. As such, they also support important recreational fisheries in tropical and temperate waters worldwide. Owing to the high value of tunas for food and sport, several species have been overfished globally, some to greater extents than others. Resulting from the need to conserve tuna resources worldwide, and considering the distributions and migratory nature of the various populations, tuna fisheries are managed by inter-governmental organisations called regional fisheries management organisations (RFMOs) whose jurisdictions are confined to specific ocean bodies.
Trinidad and Tobago, since 1999, has been a contracting party of the RFMO with responsibility for conservation and management of the tuna resources of the Atlantic Ocean and its adjacent seas, the International Commission for the Conservation of Atlantic Tunas (ICCAT). ICCAT was established in 1967 by three countries: the United States, Japan and South Africa; currently there are 51 contracting parties.  Rules are adopted that govern the reporting of detailed data and information on tuna fisheries, conservation of each targeted species, the conservation of other species that are caught incidentally, management and control of the vessels that capture and transport the fish, implementation of control measures for ports that facilitate vessels landing and transhipping of the fish, and the implementation of measures that allow for traceability of the fish from capture to final trade.
Trinidad and Tobago's tuna fishery has the potential to play a major role in the local landscape with respect to food security and possibly trade.  However, in order to realise these benefits, the country must participate meaningfully in the global management efforts.  As a contracting party to ICCAT and signatory to the United Nations Convention on the Law of the Sea (UNCLOS), the country is obligated to implement many conservation and management measures related to the tuna fishery.
The Fisheries Division has therefore given priority to the fulfilment of reporting obligations, fleet control obligations and the implementation of conservation measures for severely overfished bycatch species such as marlins and some sharks.  In order to fulfil these obligations, the Fisheries Division collaborates to a significant degree with industry operators and other regulatory governmental agencies such as the Maritime Services Division and the Customs and Excise Division.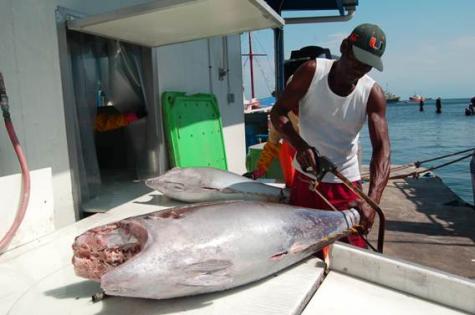 Yellowfin tuna being prepared for sale, Trinidad.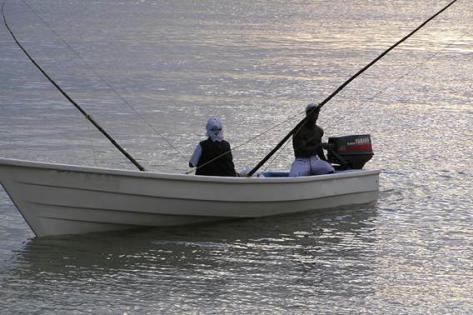 Artisanal fishermen, Tobago.
###
For further information please contact:
The Corporate Communications Unit
Ministry of Agriculture, Land and Fisheries
868-622-1221