Agriculture Minister tours Seed Unit and commits to provide additional funding for upgrades
August 7, 2017: National food security and economic development demand a very focused and determined approach to raise productivity and production in agriculture.  High quality, high yielding, pest and disease resistant seeds in sufficient quantity is the critical determinant of agricultural production.  It was in this context that Senator the Honourable Clarence Rambharat, Minister of Agriculture, Land and Fisheries toured the Seed Unit in Chaguaramas of the Ministry of Agriculture, Land and Fisheries on Sunday August 6, 2017, along with members of staff of the Unit, led by Mr. Allan Balfour, Deputy Director – Agricultural Services.
Speaking to the staff and media in attendance at the tour, Minister Rambharat said 'this [facility] is a very vital part of agriculture in Trinidad and Tobago'.  Our farmers use imported seed and planting material but there 'are some farmers who want some of the more traditional varieties … because of resistance to pest and diseases, the yield; and around the Corpus Christi planting season, there is a high demand for seeds and planting material'.  'There is still some more work to be done for upgrading the infrastructure and making the place more secure and access to water'.  The Minister further noted that 'this is one of the priority areas for Government funding that we have identified'; with an allocation 'this fiscal of TT$1.3Mn towards getting it going and I can see that we will allocate some more for next year, particularly for equipment'.  On the relevance of work at the Unit, the Minister said that 'if we produce the seeds, the farmers will plant, then the consumers can show a greater interest … people are willing and interested in buying local'.
Senator Rambharat and his team toured the expansive fields of cultivated ochroes, pigeon peas and corn; and had a first-hand view of the Nursery, and other installations on the site, including the Administration Building, Workshop and Stores.  The major activities of the Seed Unit include production of high quality seed material – corn, pigeon pea, bodi, sorrel, pumpkin, ochro, melongene, hot pepper; production of root crop planting material – cassava and sweet potato; preservation of key vegetable seeds under cold storage; and conservation of root crop germplasm.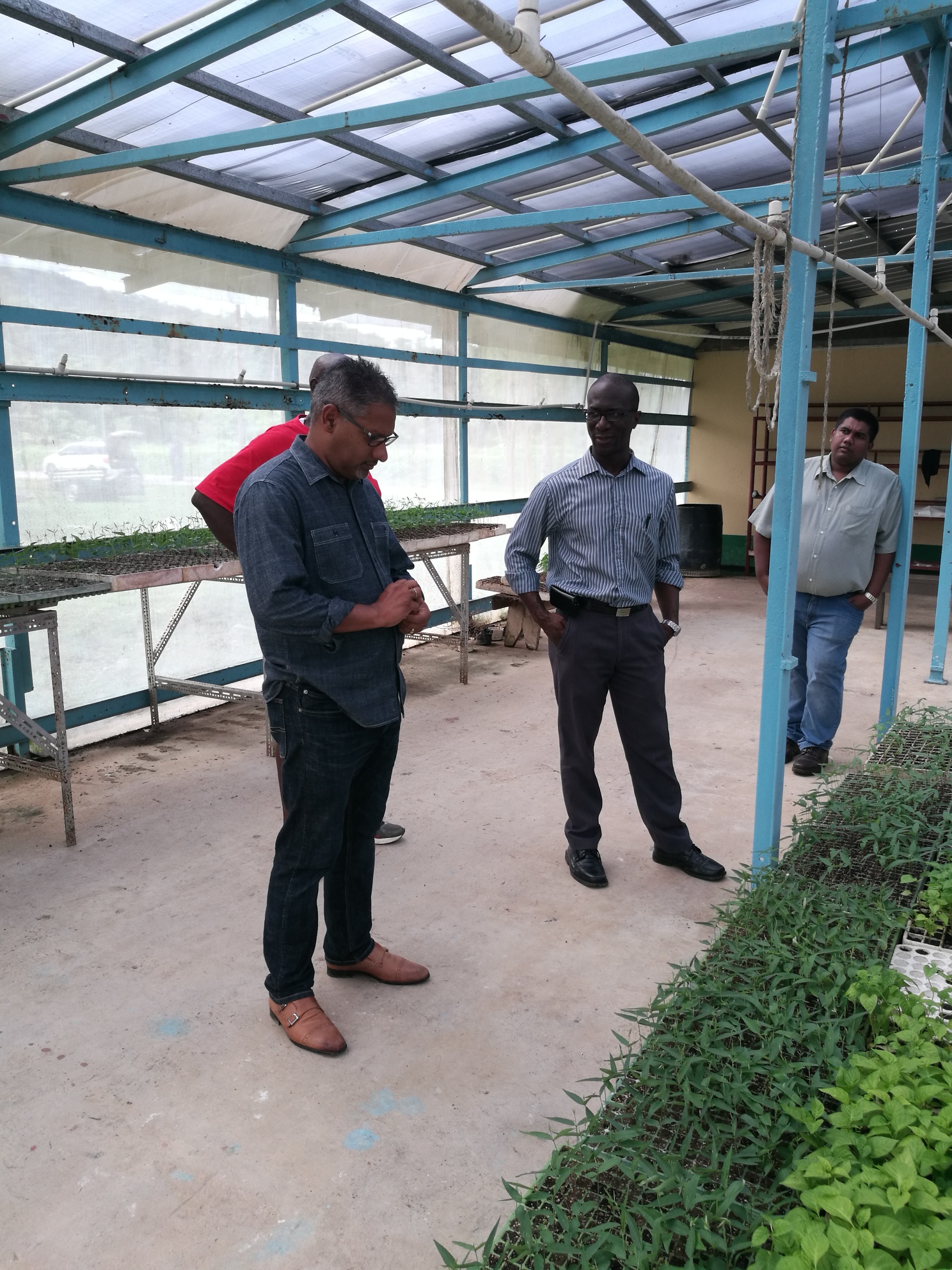 Minister Rambharat with staff of the Seed Unit, Chaguaramas at the Nursery on location.
###

For further information please contact:
The Corporate Communications Unit
Ministry of Agriculture, Land and Fisheries
868-622-1221