Agriculture Minister hosts graduating students of Guayaguayare Secondary School
July 17, 2017: 'As Minister I took the decision that my work as a Minister will involve my community of Mayaro, Rio Claro and Biche as much as I could' said Senator the Honourable Clarence Rambharat, Minister of Agriculture, Land and Fisheries to the Graduating Class of 2017 of the Guayaguayare Secondary School.  The Minister hosted the students on Tuesday 11th July, 2017 at the Orientation Centre, Royal Botanical Gardens, Port of Spain, sharing that this school was chosen since 'accessing opportunities are not always easy [for] persons in rural communities'.
Minister Rambharat, in his brief Address, highlighted some of the work of the Ministry which positively impacts on the lives of young persons, including the Planting of Trees Programme launched at the Belmont Secondary School on the occasion of World Environment Day and the provision of agriculture based publications to Libraries across the country.  Senator Rambharat shared with the students that there is a need for us to 'take care of our health' and that 'as you get into your careers [you need] to make it a point to allocate time for your families, faith and community, making sure that you are always fit for purpose'.
Mr. Charles, Geography teacher said 'our visit here is certainly one that has opened up our eyes to some of the programmes that the graduates can get themselves involved in, [particularly as it pertains to] their career path or career choices'.
The students of the Graduating Class of 2017 are Jabari Arneaud; Zenobia Braithwaite; Shinaad Briggs; Karla Chandler-Weste; Shaquille Charles; Tishari George; Allyssa Jardine; Teressa Kalloo; Jerbarie Merrique; Stephen Quamina; Akim Ravello; Justin Rigues; Mitra Simpoodath; Kessie-Ann St. Adge; Tineile Sylvan; Lenelle Tang; and Dillon Ventour.
The students toured the office of the Minister at St Clair where they enjoyed a private one-on-one session with the Minister, then they were treated to lunch.  The students were chaperoned by two of their teachers – Mr. Gregory Charles and Ms. Lily Williams.  Following the luncheon, the students received a guided tour of the Royal Botanical Gardens and the Emperor Valley Zoo.
They all received fruit hampers courtesy the National Agricultural Marketing and Development Company Limited; and chocolates courtesy the Cocoa Development Company of Trinidad and Tobago Limited.  The two A-Students - Lenelle Tang and Tishari George - received a phone, courtesy bmobile.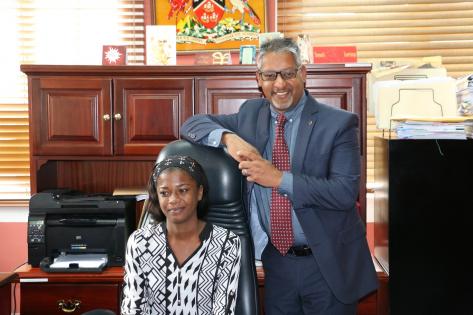 Minister Rambharat with Valedictorian, Lenelle Tang.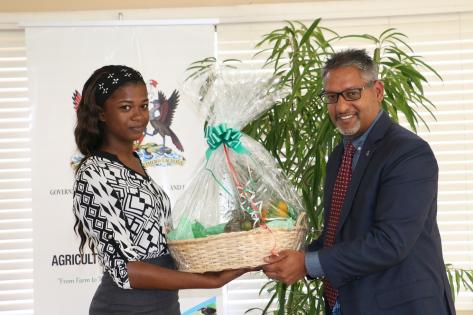 Minister Rambharat presents a token to Valedictorian, Lenelle Tang.
Cross-section of the audience.
###
For further information please contact:
The Corporate Communications Department
Ministry of Agriculture, Land and Fisheries
868-622-1221