Agriculture Minister and UWI Principal talk agriculture
March 9, 2017: On Wednesday March 8, 2017, Senator the Honourable Clarence Rambharat , Minister of Agriculture, Land and Fisheries met with Professor Brian Copeland, Principal of the University of the West Indies, St Augustine Campus.  The 3-hour long meeting saw discussions on land management, the cocoa industry, ICT, forestry, nutrition, food safety, youth in agriculture, among others.  The main intent of these detailed discussions was to focus on 'fixing the silos' and in the words of the Minister, 'we need to connect the research and development to the practical'.
The Minister was accompanied by Mrs. Angela Siew, Permanent Secretary; Mr. Andre Laveau, Deputy Permanent Secretary; Dr. Lystra Flecther, FAO Representative; Mr. Gregg Rawlins, IICA Representative; Mr. Barton Clarke, Executive Director, CARDI; Mr. Winston Rudder, Chairman, Cocoa Development Company of Trinidad and Tobago Limited; and others.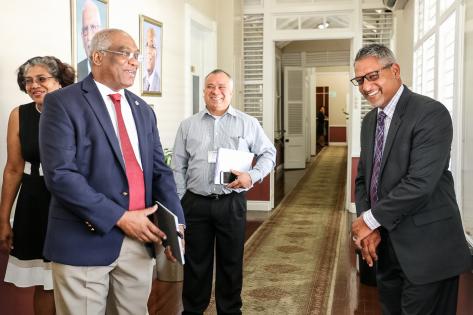 Minister Rambharat and Professor Copeland share a light moment during ahead of their meeting.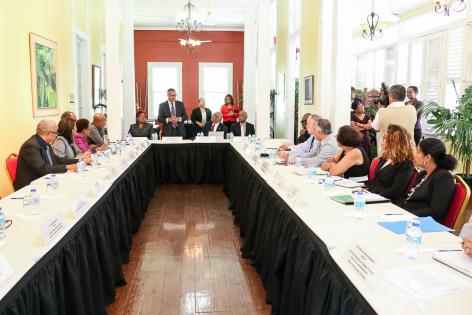 Minister Rambharat (standing) opens the discussions. 
###
For further information please contact:
The Corporate Communications Unit
Ministry of Agriculture, Land and Fisheries
868-622-1221