1.2 million plants available for planting in the upcoming Wet Season
May 19, 2017:'Moruga is a very important place as it relates to agriculture and fisheries.  What we are about to do here is very critical' said Senator the Honourable Clarence Rambharat, Minister of Agriculture, Land and Fisheries at a Meeting outlining 'Development Initiatives in Moruga' hosted on Wednesday 17th May, 2017 at the St. Mary's Government Primary School.  Providing a historical background for the meeting, Senator Rambharat shared 'Moruga is a very big part of [the Prime Minister's] political life and he has made several commitments to the community.  And we cannot talk about Moruga and not mention Minister Franklyn Khan.  If fact, it was in Moruga that this concept of a rural development ministry was given birth and in particular he focused on opportunities for income generation, for earning of livelihoods and for housing'. 
Outlining the Agriculture Ministry projects, the Minister shared that 'we have earmarked on the nursery projects that will continue to support the development of planting material for both food production and forestry.  And so far, we have available for planting in this upcoming wet season over 1.2 million plants, which is a combination of forestry plants and food producing plants.  Based on what we have done so far, we are confident that over the next few years, we can sustain the production of planting material above 1 million plants per year.  And that will make a substantial contribution to regenerated forestry, forest reserves across the country, replanting parts of the Northern Range, reintroducing some fruit and plant that have disappeared and also reintroducing forest in some of the recreation areas across the country'.
'The Port remains a priority project.  One of the main reasons is to attract the long liners'.'
'In the surrounding areas, such as Tableland, we continue to improve the road infrastructure.  This year, we move into Phase II of a project which aims to develop the road as we seek to continue supporting the pineapple farmers.'
Highlighting a critical Information Technology project for the Ministry, Senator Rambharat said to the audience that 'there is a lot of hope and expectation placed on our farmers, food producer and this Ministry.  And at the heart of what we have to do for farmers is resolving the issue of land tenure as it relates to farmers.  For far too long, the administration of land in this country has relied on paper files.  This year, we are investing TT$11.9 million on one hand to improve the IT infrastructure in the Ministry to build the backbone to allow for reliable access at the necessary offices and to have connectivity; and [on the other hand] to move away from a paper based way of doing business to a modern document electronic management system.  The IT investment ranks as amongst the most important investment we will make in this fiscal year.'
The other plans shared by the various Ministers present include an Agro-Processing and Light Industrial Park which will be built on 18.83 acres of State land situated in Saunders Trace, and will initially house five (5) factory shells.  The project represents an investment of approximately TT$69.3 million towards the further development of Moruga.  Senator the Honourable Paula Gopee-Scoon, Minister of Trade and Industry noted that these initiatives are 'expected to facilitate economic growth and the development of environmentally sustainable local, regional and international businesses, engaged in downstream activities in the agricultural sector; [while facilitating] the further development of the community and the creation of world class entrepreneurs'.
Addressing the audience too were Senator the Honourable Kazim Hosein, Minister of Rural Development and Local Government; Mr. Frank Barnes, CEO, UDECOTT; and Mr. Imtiaz Ahamad, Chairman, eTecK who all outlined their various plans for the area.  Dr. the Honourable Lovell Francis, Minister of State in the Ministry of Education and Member of Parliament for Moruga/Tableland said to the audience that 'we are all here to provide a guarantee!'
In the audience were Mr. Winston Rudder, Chairman, Cocoa Development Company of Trinidad and Tobago; Ms. Maureen Singh, President (Ag.), eTecK; Alderman Natalia Mendez, Princes Town Regional Corporation; Mr. Mitchell Fitzroy, Chairman, Moruga/Tableland Constituency; Mr. Feroze Khan, Principal, St Mary's Government Primary School; Mrs. Dhano Sookoo, President, Agriculture Society of Trinidad and Tobago.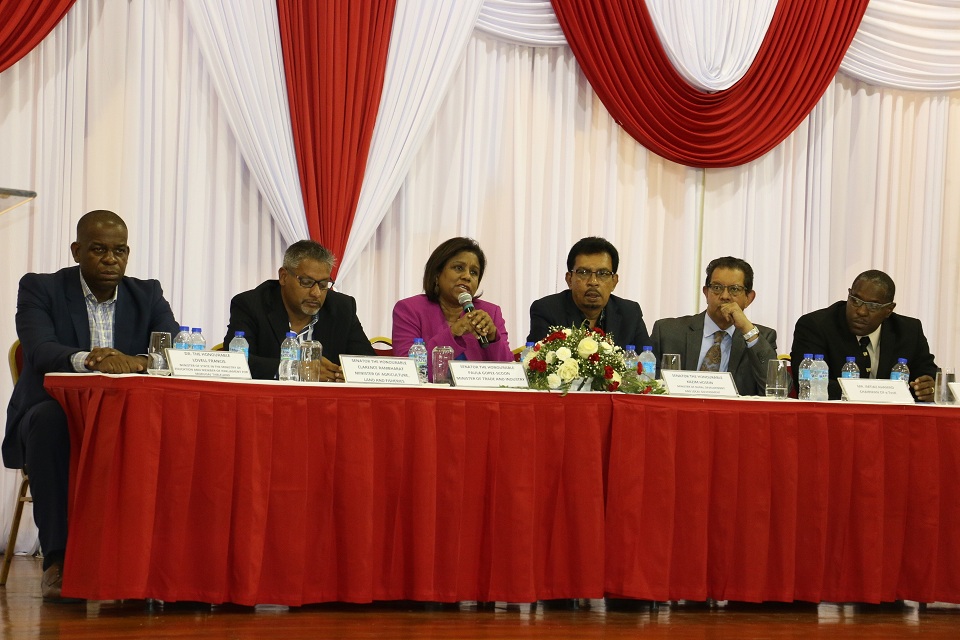 Minister of Trade and Industry, Senator the Honourable Paula Gopee-Scoon responds to a query from a member of the audience.
###
For further information please contact:
The Corporate Communications Unit
Ministry of Agriculture, Land and Fisheries
868-622-1221