"Gender Analysis of Calypso - The Portrayal of Women and Men in Calypso: What's wrong with the song?"
November 2, 2017: On Tuesday 31st October, 2017, the Office of the Prime Minister (Gender and Child Affairs) in collaboration with Trinbago Unified Calypsonians' Organisation (TUCO) hosted a panel discussion in commemoration of Calypso History Month, titled, "Gender Analysis of Calypso", under the theme: The Portrayal of Women and Men in Calypso: What's wrong with the song?" 
The brief opening ceremony started the dialogue on gender issues related to the calypso art-form in an effort to promote healthy social practices in the musical arena. Ms. Jacqueline Johnson, Permanent Secretary, Office of the Prime Minister in her feature address stated that, "Calypso has and will continue to connect us with our past, current and future political, social and economic existence through it commentaries. Calypso is our culture, it is in the way we talk, our twang, the way we move and how we construct and decode the various issues surrounding our society". Mr. Lutalo Masimba (Brother Resistance), President of TUCO indicated in his address that "when we look at what's wrong with the song, we should look at what is wrong with us because the song speaks to us and is of us".
Part of the discourse addressed the societal issues emanating out of Calypso and Kaiso. The panellist consisted of Dr. Sue Ann Barratt, Lecturer, The Institute for Gender and Development Studies, UWI presented on "The Power of Gender Myths: Misogyny and Masculine Entitlement in Calypso"; Ms. Antoinette Jack-Martin, Director, Gender Affairs Division on: "Looking at Calypso from a Gender Lens- Messages conveyed through music"; Ms. Folade Mutota, Executive Director, Women's Institute for Alternative Development on "Women in Calypso" and Ms. Meagan Sylvester, TUCO Education and Research Officer on "Unpacking the language in use of Calypso using a Gendered Perspective". The session was moderated by Dr. Rudolph Ottley. After the panel discussion, the floor was opened for guests' comments and questions.
The proceedings was not all discourse, participants were treated to extempo Kaisos from Mark John (Contender), Phillip Murray (Black Sage) and Dion Diaz.
The Office of the Prime Minister will continue its drive to advocate for gender equality, equity and the empowerment for all its citizens by building awareness and promoting partnerships with key stakeholders.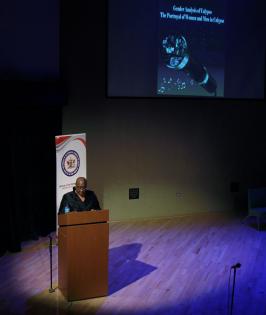 Ms. Jacqueline Johnson, Permanent Secretary , Office of the Prime Minister (Gender and Child Affairs) delivering the feature address.
###